Counter-Strike's Most Iconic Map Exists Because Of Another Classic Game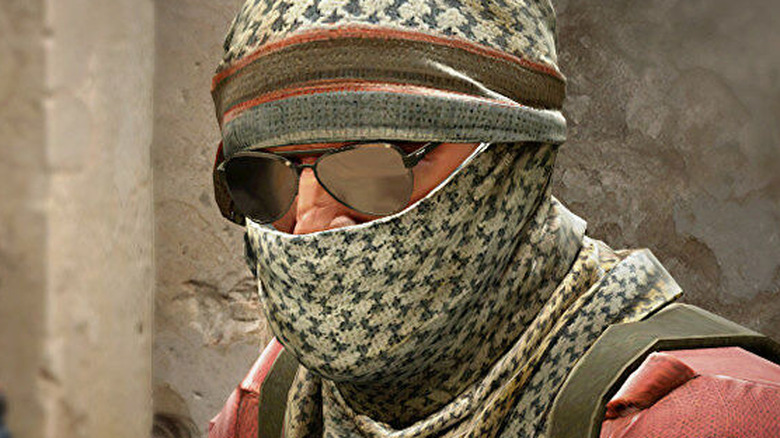 Valve
For over a decade now, "Counter-Strike: Global Offensive" — commonly known as "CS: GO" — has been one the longest surviving and influential first-person shooters on the market. A big reason for that is its multiplayer features, the most popular mode being Bomb Defusal which features two teams of five — Terrorists and Counter-Terrorists — attempt to thwart each other. While the game's easy-to-learn, hard-to-master gameplay has played a pivotal role in keeping one of Valve's best efforts alive for all these years, another huge reason for its success is its maps — the most popular being the original Dust.
Advertisement
For anyone that's played or even seen glimpses of "CS: GO," Dust needs no introduction. It's makeup of digital clay, bricks, and sand is almost immediately recognizable and it stands as one of the most popular maps not just of its generation, but of all time. Even when matched against other popular maps from popular games such as "Terminal" from "Call of Duty: Modern Warfare 2," there's something about Dust that seems timeless and even perfect. However, what many "CS:GO" fans might not know is that the first Dust wasn't an entirely original idea. In fact, it owes much of its existence to a map from a completely different game.
Dust's designer was inspired by Team Fortress 2
In a lengthy blog post on his website called "The Making of Dust," software engineer Dave Johnston — the creator of both Dust 1 and Dust 2 — detailed what went into creating the original map. In the post, Johnston lays out the thought process behind creating Dust's several iconic features be it the spawn areas and bottlenecking underpass. However, funny enough, Johnson acknowledges that Dust wasn't an entirely original idea. Instead, the map was based off a concept from another Valve game called "Team Fortress 2."
Advertisement
"For many FPS players Dust – and the later Dust 2 – are the quintessential 'Counter-Strike' maps," Johnson said. "But these maps actually owe their existence to 'Team Fortress 2' – a game that was released eight years after Dust became a staple of the 'Counter-Strike' map rotation." Johnson recalled seeing early screenshots of "Team Fortress 2" and how he got in touch with artist Chris "MacMan" Ashton to obtain the textures required to make a similar map, using the "Team Fortress 2" screenshots as a reference.
"Undeterred by my complete lack of originality, Chris quickly got back to me with beautiful lookalikes," Johnson said. Though he initially expressed hesitance to go forward due to the similarities with a map from a then-unreleased game, Johnson would continue on with the project while making enough modifications to where the map wasn't identical to the one he was inspired by.
Advertisement