How Long Does It Take To Beat Metal: Hellsinger?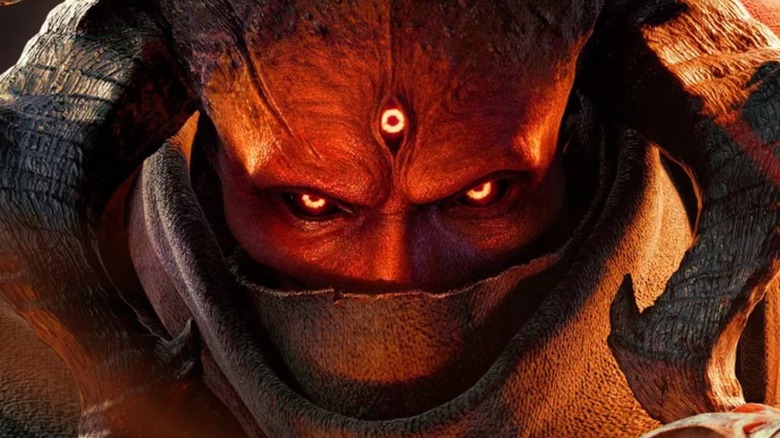 Funcom
"Metal: Hellsinger," the new "Doom"-inspired first-person shooter rhythm game from The Outsiders, is set to release on September 15 for Xbox Series X|S, PS5, and PC. Before the game launches, critics have been saying what they think about the game and diving into its intense gameplay and heavy soundtrack. Since "Metal: Hellsinger" is focused on racking up high scores on smaller levels, fans may be wondering how much content to expect on launch day.
"Metal: Hellsinger," as its name implies, focuses on metal music for its soundtrack — and the developers went out and got some impressive talent. According to the game's official website, "Metal: Hellsinger" features vocal talent from System of a Down, Trivium, Soilwork, and more. Metal fans are likely to recognize some of the artists singing while they shoot down demons on beat, but will this game take longer to beat than it takes to jam out to a metal playlist? Here is how long it takes to finish "Metal: Hellsinger."
Metal: Hellsinger will only take a handful of hours to complete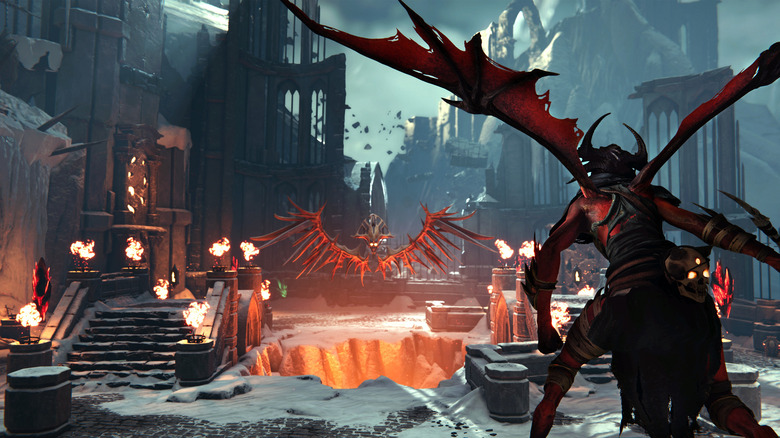 Funcom
According to multiple reviews, it seems like "Metal: Hellsinger" takes about four hours to complete, although fans chasing high scores will spend more time with it. GamingTrend's reviewer said in its review that it took roughly three to four hours to complete the game, although that didn't include the challenge mode that unlocked at the end of the game. GamingBible also clocked in at four hours to complete the main campaign, but took several more hours to complete the challenge mode.
Twinfinite's reviewer took a little longer to get through the main campaign, coming in at about six hours. HowLongToBeat.com is currently listing an average six-hour completion time, so it seems like most people will fall into that range as they blast and battle their way through the rocking campaign — unless they decide to dive back in to beat their own scores.