Is Trackmania Cross-Platform?
Ubisoft
In 2020, Ubisoft went through the archives and brought back an old racing franchise. Functioning as both a remake of "Trackmania Nations" and a soft reboot of the series as a whole, "Trackmania" released on PC after a four-year hiatus following the previous entry, "TrackMania Turbo," in 2016. "Trackmania" received mixed reviews from critics. The highlights included its gameplay and in-depth track editor, but it drew disapproval for locking its best content behind a paywall. About three years after the game's PC debut, others will have the chance to give "Trackmania" a try and see if it's right for them.
On September 10, Ubisoft announced during its Ubisoft Forward event that "Trackmania" was coming to Xbox Series X|S, PlayStation 5, Xbox One, PlayStation 4, Google Stadia, and Amazon Luna beginning in early 2023. With the title headed to so many different platforms, some users might wonder if "Trackmania" will support cross-platform play and allow them to race against opponents on other consoles or PC. If you're someone looking forward to such a feature, there's good news.
Trackmania will go cross-platform in early 2023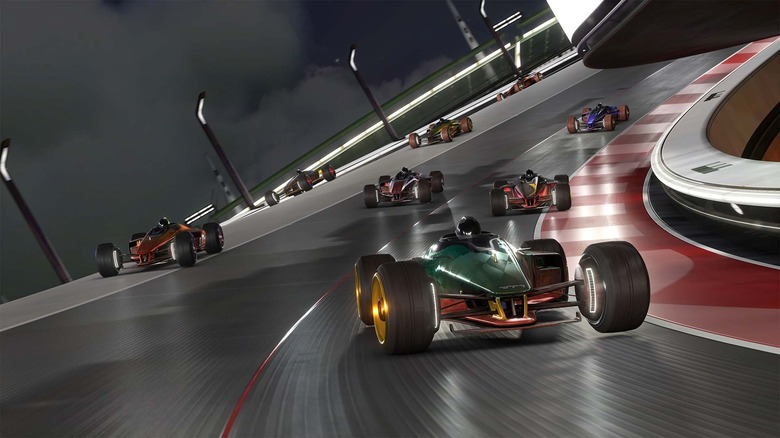 Ubisoft
As revealed by producer Augustin De Vita, "Trackmania" will support cross-platform play upon its release for consoles and cloud services in early 2023. This will allow anyone on PC to enjoy the game with their friends on console. If you're currently playing "Trackmania" on PC and would rather transition to another system or cloud version when it releases on the new platforms — or want to swap between them — the game will also allow cross-progression. The feature enable players to keep their progress on other platforms in addition to the PC version.
"Trackmania" will continue with its free-to-play model when it debuts on Xbox, PlayStation, Stadia, and Luna. However, it's important to note that "Trackmania" uses a highly controversial subscription model divided into two tiers that players are required to pay for if they want to experience all of the game's social and community features. "Trackmania" players can purchase one year of "Standard Access" or "Club Access" for $9.99 or $29.99, respectively. Should you want Club Access for three years, it will set you back $59.99.