PS5's DualSense Edge Vs DualSense: What's The Difference?
We may receive a commission on purchases made from links.
During the opening night of Gamescom 2022, PlayStation unveiled a very nice surprise for the company's user base: the DualSense Edge. Designed to compete with other consoles' "pro" controllers, like the Xbox Elite Series 2 for instance, the DualSense Edge offers an assortment of new features for elite-level gamers. Players were told during the Gamescom presentation that this new controller will give them a high-performance, customizable alternative to the regular DualSense.
But what exactly does the DualSense Edge have to offer? Is it an improvement over the default DualSense that every PS5 player starts out with? After all, the standard DualSense was already considered to be an especially advanced controller when it first debuted alongside the PS5 in 2020. Many gamers may decide that this controller is enough for them. In case you're currently weighing whether or not you need to switch over, here's everything you need to know about the differences between the two controllers.
DualSense Edge has some exciting new features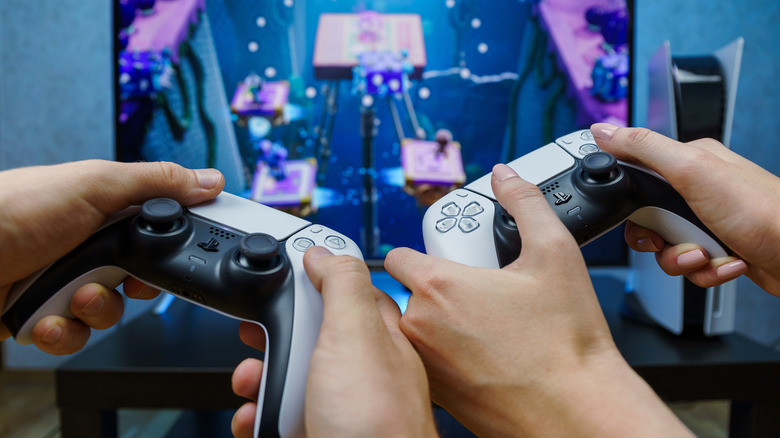 Rokas Tenys/Shutterstock
When Sony first announced the PS5's DualSense controller back in April 2020, months ahead of the PS5's release, players were dazzled with a bevy of unique features. Haptic feedback and adaptive triggers added a level of immersion that had never been seen before. New sharing capabilities, a built-in microphone, the return of the popular touchpad from the PS4's DualShock 4, and a brand new ergonomic design all helped the DualSense stand apart.
The newly developed DualSense Edge includes all of these features and more. According to PlayStation.Blog, the DualSense Edge improves upon its predecessor by allowing players to customize their controllers by remapping remap controls, programming multiple controller profiles, and making use of additional buttons. Maybe the most exciting change from the standard DualSense, however, is the introduction of replaceable stick modules. As noted by Kotaku, this should fix controller drift, which is one of the DualSense's most notorious issues. Maybe one day soon, PS5 gamers won't have to worry about their thumbsticks pulling to one side or missing that crucial shot in a "Warzone" round.  
What still remains unclear is whether or not the new controller will fix the other most talked about DualSense problem: battery life. According to Tech Radar, DualSense controllers only last for about 4 to 10 hours, so a longer battery life would definitely be another plus in favor of the DualSense Edge.
Price will definitely be a factor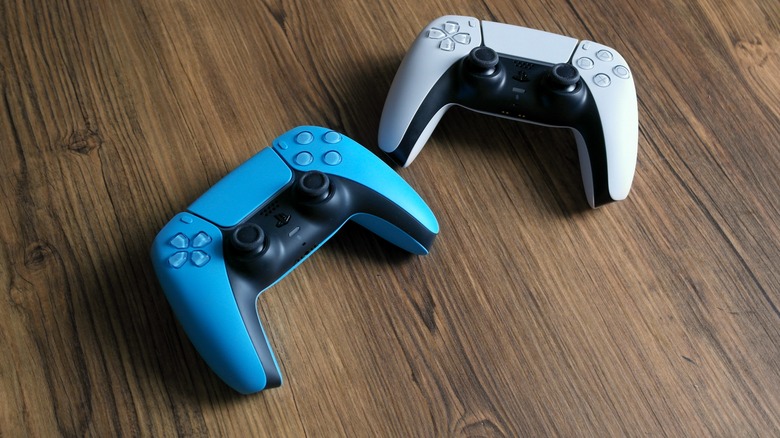 Michael Whiteley/Shutterstock
Perhaps the most important question for gamers is one of cost. While PlayStation has yet to reveal the exact price for the DualSense Edge, a price analysis conducted by The Shortcut offers some likely ballpark figures. According to The Shortcut, the controller will most likely cost between $179 and $249, with the outlet feeling most confident in the controller fetching a price around $199. In comparison, Xbox's own "pro" controller, the Elite Series 2, is listed at $179.99.
For comparison, a regular white DualSense typically retails for $69. In other words, players are likely looking at spending over $100 extra for the newest and greatest PlayStation controller. Then again, if the replaceable thumbstick modules work as advertised, you may end up saving in the long run when you don't have to replace your controller outright. Fans will have to wait a little bit longer to see if they're really getting more for their buck.