The Rarest N64 Console Will Cost You A Staggering Amount Of Money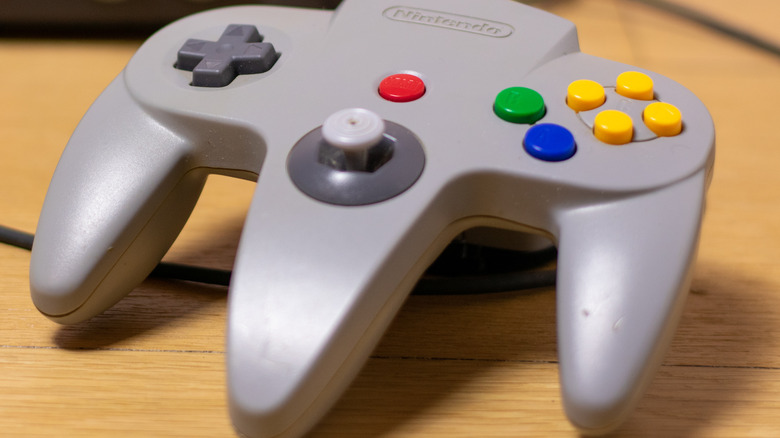 Brian P Hartnett Jr/Shutterstock
The Nintendo 64 is one of the best consoles in video game history. The console had a ton of great games, like the best-selling "Super Mario 64." Despite the fact that an N64 emulator has been brought to the Nintendo Switch, the well-loved console will probably never see a "classic" version of itself ever made. Nintendo has made a lot of well-loved and highly-bought consoles over the years, and the company has enough to focus on with the Switch for now.
Collectors are still hunting for some of the best versions of the retro console. With multiple different special editions that were released through the years, it might be hard to guess the rarest one. Prices don't lie, and one way to find out which Nintendo 64 special edition is the rarest is to see which one sells for the most.
Keep reading to see which Nintendo 64 console will cost you and your wallet a staggering amount of money.
The NTSC-J Orange Pikachu
No, the rarest Nintendo 64 isn't the 64DD that caused a ton of commotion after the developer's kit was released on Twitter. It's actually the NTSC-J Orange Pikachu version. People who were around when the Nintendo 64 was in its prime might remember the blue Pikachu Nintendo 64. The Orange Pikachu version is incredibly similar, but it was a Japan exclusive.
According to PriceCharting.com, the console alone runs around $275. Most collectors want the box and manual though, and these will set you back over $425.
Of course, those are both consoles that have been used, and many Nintendo lovers want something that's new. The cost of one of those is nearly $1,200, which is ten times the price of the console on release. Now, get one that's been graded and it's worth over $8,000. While these prices may sound over the top, there are people willing to pay them. Plus, having a special edition N64 console from Japan would be a great addition to any Nintendo collection.