These Games Earned The Lowest Ratings In 2017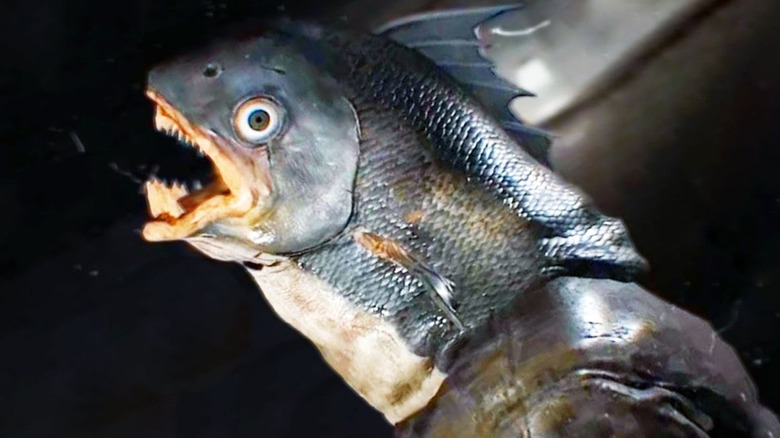 With 2017 in the books and a whole new year of gaming adventures lying ahead, now's a good time to look back at the games of 2017. In particular, we're going to take a look at the worst games of 2017—the ones that earned the lowest ratings from both professional critics and fans. Ratings come from Metacritic and we only included titles where at least 7 professionals reviewed the game. This is by no means an exhaustive list of the worst games of 2017, but we've chosen some of the most misbegotten games of 2017 to cover here for you. Play them at your own risk.
Hello Neighbor
Released for PC and Xbox One in December, the stealth survival horror video game Hello Neighbor was immediately panned by most critics and players. Publisher tinyBuild touts the game's unique artistic style and "advanced AI," which comes into play as you try to infiltrate your neighbor's basement to uncover his "horrible secrets." Apparently, the biggest secret is how horrible this highly anticipated game ended up being. As of this writing, it holds a Metacritic score of 40 out of a possible 100, while users gave it a 4.3 out of 10.
IGN called Hello Neighbor "a frustrating slog through a gauntlet of illogical puzzles that rely on persistence and thoroughness far more than cleverness, observation, or ingenuity." Game Informer went a step further, claiming the game "is unpolished to the point that it feels unfinished," and the "overpowered enemy A.I. makes the gameplay miserable."
Inner Chains
Horror FPS Inner Chains came out exclusively for PC in May. This indie title was made by Telepaths Tree and exists largely due to the support the studio received from fans in a Kickstarter campaign. The publishers describe Inner Chains as a game set "in a surreal, dark and deadly biomechanical world never seen before," but critics and players alike weren't very impressed with this new world. Offering mainly style in lieu of substance, Inner Chains scored a 40 with critics and a 4.5 with players.
Daniel Wilks at PC PowerPlay neatly explained the main problems with the game in his review: "Inner Chains looks good, but beneath the veneer is a mess of bad mechanics and disappointing design." 
Husk
Released by UndeadScout for PC in February, Husk is a first-person perspective survival horror game—with obvious inspiration taken from Silent Hill and Alan Wake—framed by the real-life issue of domestic violence. This intriguing premise could have made for a great game if done well, but Husk ultimately failed to live up to its lofty aspirations. It scored a 44 with critics and a 4.1 with users on Metacritic. Wccftech's review called it a "frighteningly broken" game "with broken combat and stealth systems that consistently undoes any sense of tension it tries so hard to build." Hardcore Gamer, meanwhile, questioned "just how "finished" this game truly is," and bashed UndeadScout as a studio that has "mistaken basic nostalgia for the wealth of enjoyment."  
Road Rage
The motorcycle combat game Road Rage was released for PlayStation 4, PC, and Xbox One by Maximum Games in autumn. According to promos for the game, Road Rage is supposed to be an "over-the-top, knock-down-drag-out motorcycle combat game that tests your skill on a range of badass bikes." Unfortunately, it seems that instead of being "badass," this game and its bikes was mostly just bad. And also ass. 
Road Rage scores an abysmal 26 out of 100 with critics and 2.8 out of 10 with players. One player put it pretty succinctly in their review, saying that Road Rage ultimately "looks like the PS2 threw up on the PS4."
Professional critics seemed to agree, with Ken Barnes at We Got This Covered saying that "Road Rage feels very, very much like a bad Steam game...it fails on every level." The Hardcore Gamer review went more in-depth into the game's failings: "The racing action struggles due to poor controls, while the combat rings hollow with poor weapon selection and sub-par sound effects. Glitches and other technical problems muddy the experience further."
Randall
Released for PS4 and PC by indie studio We The Force, Randall is a Metroidvania-style side-scroller set in a dystopian world. The game boasts a unique art style and a telepathic and schizophrenic hero (Randall, natch), who's trying to take out the oppressive regime that rules the land. Unfortunately, this was less "Randall" and more. It holds a score of 38 with critics and 2.1 with players on Metacritic. The review on ZTGD said that Randall "tried very hard to shine...but ends up failing on all fronts," and that he "was left feeling empty" while playing the game. GamingTrend knocked Randall for its "game-breaking glitches" and condemned pretty much every other aspect of the game, too: "The platforming is sloppy, the combat is dull, the story and writing is unintelligible, and the boss fights are unbearable."
Dying: Reborn
The six-chapter horror-themed puzzle game Dying: Reborn debuted from Oasis Games for PS4, PS Vita, and Xbox One. According to the official PlayStation description of the game, Dying: Reborn is a "a twisted story" offering "classic puzzle-solving gameplay" that will appeal especially to fans of the Saw movie franchise. Apparently, what they meant by the Saw reference is that most players would probably rather cut off a limb than finish playing this game.
On Metacritic, Dying Reborn scored 38 with critics and a surprisingly high 5.9 with users. The VR-compatible game fell flat with most reviewers—Steven McGehee at Digital Chumps said he "wasn't compelled by the story, the characters, or the atmosphere," and resorted to using a walkthrough guide because "I just was not finding the experience worth my time and effort." The COGconnected review claimed that for an escape-room game that had the potential to really shine with VR, "the end result feels like a cruel joke."
Dead Alliance
Released on August 29 for Xbox One, PS4, and PC, Maximum Games' FPS zombie shooter Dead Alliance is set in a post-apocalyptic world where you use former military bases as refuges and can become allies with the undead in order to use them as weapons against your enemies. However, it seems that if you actually spend much time playing Dead Alliance, you'll probably be ready to just hug a zombie and infect yourself rather than keep going.
Dead Alliance has earned only generally unfavorable reviews on Metacritic, scoring a 43 with professional reviewers. XboxAddict wasn't too pleased, saying that Dead Alliance "is a very bland shooter with awful execution," especially because of the "extremely outdated visuals and poor performance." TheXboxHub said that Dead Alliance just can't live up to its zombie-game predecessors, because "terrible bugs and a lack of content make this just another disappointment within a once great genre."
Verdun
Set during World War I, Verdun is a squad-based multiplayer shooter released for Xbox One in March, a port of a 2015 PC game (which had been ported to the PS4 in 2016). According to developers M2H and Blackmill Games, Verdun's "merciless trench warfare offers a unique battlefield experience, immersing you and your squad in intense battles of attack and defense." However, while the game's 2015 Steam release was generally well-received, the Xbox One port hasn't performed very well at all. Critics gave it a 46, easily the worst score of all three versions, while players were a bit more forgiving with a rating of 6.0.
It seems that the biggest problems with the Xbox One version of Verdun lie in the poor performance of the game on a console. According to Gaming Nexus, "rampant server issues, poor performance, badly designed UI and a non-existent player base have crippled what should have been a really interesting change of pace for console shooters." XboxAddict summed it up perfectly: "Do yourself a favor, VerDON'T buy this game."
Raid: World War II
Released for Xbox One, PlayStation 4, and PC in autumn from Starbreeze Studios and 505 Games, RAID: World War II is "an action-packed four player cooperative shooter set during a time when the Nazi war machine was still winning, and hope was in short supply." In the game, you team up with three other players to "take down Hitler and his Third Reich once and for all." While this sounds like a pretty fun concept, RAID just couldn't execute when it comes to gameplay. It holds a score of just 46 with critics on Metacritic. The review from IGN said that "very little in RAID: WWII is absurdly broken or flawed, but its mediocrity makes it a missed opportunity." At Game Informer, Matt Bertz claimed that RAID's "poor AI, repetitive design, and technical problems had me waving a white flag long before the war should have been over." Then again, gamers seem to disagree: the user review score on Metacritic is a whopping 7.6.
Vaccine
Released in July for Nintendo Switch (and February for pretty much every other major platform) the horror/survival action-adventure game Vaccine claims to offer "a new approach on Survival Horrors inspired by those of the '90s." The basic premise of the game is that you must search a randomly-generated house for a vaccine to save your infected friend before time runs out. However, your friend will relapse if you don't discover the secret of the house—which will in turn force you to find the vaccine again in a new randomly generated map. Sounds like a fun take on Resident Evil for 2017, right? Not quite.
Vaccine scored only a 44 with critics and a 6.1 with players. James Mitchell at Vooks had nothing positive to say, calling Vaccine "tone-deaf to the games it's trying to emulate and misses the mark in almost every department." 
New Frontier Days: Founding Pioneers
New Frontier Days: Founding Pioneers is a cheerful-looking town-building/farming simulator game that was released for the Switch in March and the PC in June. According to developer/publisher Arc System Works, in New Frontier Days, "you command your pioneers to colonize a new land. The pioneers are capable of logging, mining, hunting, fishing," and many other roles. The game also offers three different game modes to add variety to play. However, if you were hoping for a new Animal Crossing or Farmville hybrid, you'll probably be let down.
On Metacritic, it scored a 52 with critics–one of the highest-scoring games on this list–and a 4.7 with players. Pocket Gamer UK observed that the game "provides enough fun to justify itself during the Switch's current drought [published immediately after the console's launch], but that won't last very long." It didn't.
Vroom in the Night Sky (Switch)
Developer Poisoft has the distinction of creating the worst game of 2017 with their Switch action title Vroom in the Night Sky. Released on April 5th, Vroom's official description explains the premise of the game: "There are various night skies in this world, and it is the work of Magical Girls to collect Stardusts there. You become the Magical Girl Luna, ride a magical bike, fly around the night sky and collect Stardusts! The features of this game are Fantastic feeling, Speedy feeling, and Realistic feeling using HD Vibration." With a clear and coherent description like that, how could anyone resist? Needless to say, the critics pounced.
Vroom in the Night Sky scored an incredibly low 17 out of 100 with critics and 3.5 out of 10 with players. Nintendo Life says "Vroom in the Night Sky offers so little content and such poor communication that it is hard to think of any reasons to recommend this to anyone." Paul Murphy at Switch Player slammed the game, saying "The most amazing thing about Vroom in the Night Sky is that it was actually greenlit at all. It's ludicrous that someone at Nintendo thought it would be a good title for the launch line up over some more notable games." Apparently Nintendo decided to stop promoting the game, because they even removed it from their website in December 2017.