The Lesser-Known N64 3D Platformer That Was Made By Sucker Punch
seeshooteatrepeat/Shutterstock
Sucker Punch Productions may be known by most as the developer behind the "Sly Cooper" series and the critically-acclaimed "Ghost of Tsushima," but its place in the industry was established well before that. Its first game, "Rocket: Robot on Wheels," was an underrated gem on the Nintendo 64.
Published by Ubisoft, "Rocket" released in November 1999. In this 3D platformer, players assume the role of Rocket, a maintenance robot at an amusement park tasked with saving it after chaos ensues. The main draw of the title was its use of realistic physics, a rarity in the platformer space at the time. Rocket is able to pick up countless items and throw them to interact with the environment and solve puzzles. According to an IGN review, Sucker Punch advertised the entry as "Bugs Bunny meets Isaac Newton." Despite having a unique take on the genre, "Rocket: Robot on Wheels" never achieved widespread popularity.
What made Rocket: Robot on Wheels so good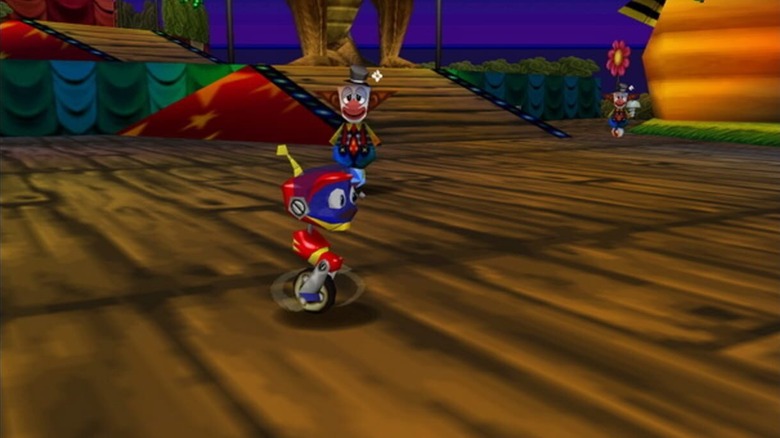 Ubisoft
The amusement park in "Rocket" is split into seven biomes. Throughout the game, Rocket must collect tickets to open up new areas of the game and new abilities. Each biome also includes its own unique minigames and side activities. They also have their own specific vehicles and there's light combat throughout.
The star of the show, the IGN review continues, is the physics. Writer Matt Casamassina called it "one of the most amazing technical achievements in a Nintendo 64 game to date." One example he gave was dropping a round object from the top of a hill and watching it realistically roll down and gain speed. At the time, realistic physics just weren't as common as they are now.
"Rocket" flew under the radar for a number of reasons. The first, designer Don Munsil admitted in a Nintendo Life interview, was its marketing. It was Sucker Punch's first game and Munsil said the studio was partly at fault for not getting it "into enough people's hands." In the comment section of the interview, one user recalled there was little to no marketing at the time.
The art direction of the game may have also played a part in its financial success. Another user said it just never piqued their interest, adding that good games will occasionally go unnoticed if they "don't look all that interesting." As evidenced by its top-20 ranking from Nintendo Power, however, it fortunately wasn't completely forgotten.