George R. R. Martin Has A Good Reason For Never Playing Elden Ring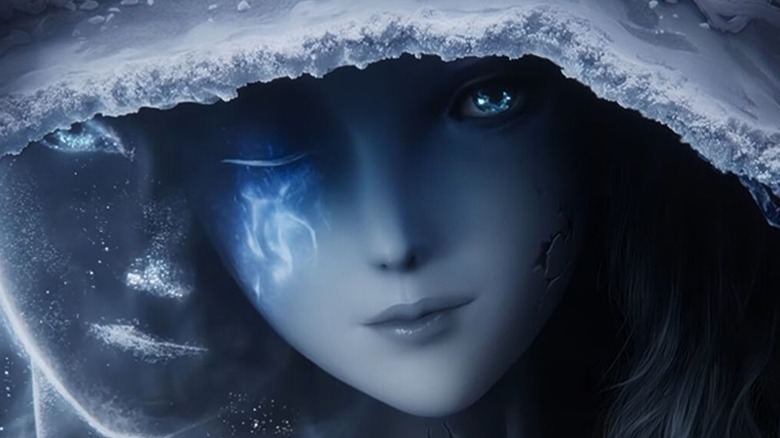 Bandai Namco
Fantasy author George R.R. Martin has been a mainstay of the genre for years now, rising to fame inside and outside the literary world with his series "A Song of Ice and Fire." Martin fans, of course, know the sweeping epic as the basis of HBO's "Game of Thrones," but while the TV series has ended, the books aren't finished yet. While many viewers didn't enjoy the ending of "Game of Thrones," they hold out hope that the books will approach things a different way – if Martin will ever finish them. 
Still, Martin's long-running book series hasn't stopped him from dabbling in other mediums, like video games. Martin worked on one of the biggest games of 2022, "Elden Ring," helping director Hidetaka Miyazaki form the lore of the Lands Between. While he didn't write the story of the game itself, Martin had a hand in creating the setting and history of the game, and was widely publicized as a creative force behind the project.
This is why it might surprise fans to hear that Martin hasn't played the gaming masterpiece just yet. Despite working on "Elden Ring" and helping craft its rich lore, Martin hasn't had time to pick up a controller and actually see the darn thing. Martin explained the situation to Stephen Colbert on "The Late Show," blaming his personality for the delay.
Martin helped build the lore of Elden Ring
First, Martin had to clarify what his role was in the project. Colbert chatted about "House of the Dragon" and "Game of Thrones" before asking Martin what he did to help create the world of "Elden Ring." Martin said that he actually worked on "Elden Ring" years ago, explaining that games take years to produce. 
"Basically the people from FromSoftware, the makers of Elden Ring, contacted me a number of years ago, and they wanted to do this video game, and they wanted a world build," Martin explained. He said that FromSoftware had a clear vision of what his role in the project would be, saying, "They made it clear that 'Elden Ring' was going to take place in the present of their universe, but what they wanted me to write was what happened like 5,000 years before that, that totally screwed up the world so that the present was really messed up."
Of course, this is what Martin is best at – writing dark timelines full of death and betrayal. He got to work writing a history of the Lands Between, laying out the basic connections between the major players in the lore and establishing what happened to deteriorate the world to the miserable point players see at the beginning of "Elden Ring." Colbert and Martin both acknowledged that "Elden Ring" is a brilliant game, full of rich detail and surprises, but Martin had a confession: He's never actually played it.
Martin has an addictive personality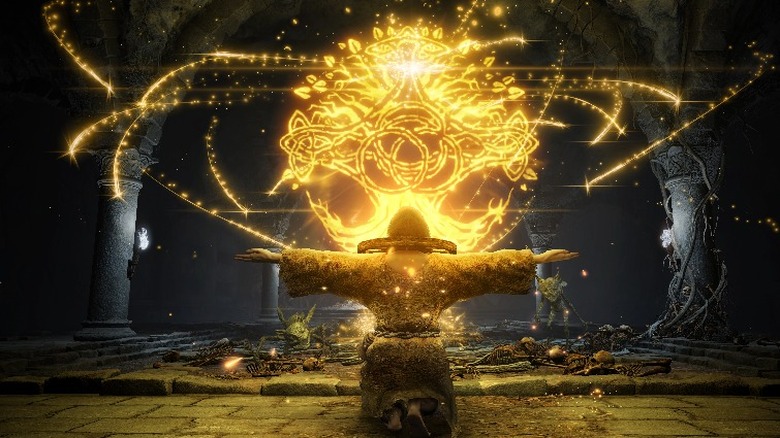 Bandai Namco
Martin bluntly said that he's never picked up a controller to play "Elden Ring," and in fact, he doesn't play any video games these days, though he used to. First, Martin joked that he hadn't played "Elden Ring" because "people seem to want this 'Winds of Winter' book," but he soon provided a serious answer.
"Unfortunately, I have a totally addictive personality," Martin said. "I did play video games a long, long time ago ... I would get sucked into it and weeks, months would go by." The author explained that he enjoyed strategy and management games like "Roller Coaster Tycoon" and "Master of Orion." He recalled looking up from the computer, wearing his bathrobe and wondering where the time went. Martin said that he had to stop playing games completely, and can no longer trust himself to enjoy the medium.
That said, Martin complimented FromSoftware, saying, "It was fun, and the Japanese team that put together the game – it's the most beautiful game I've ever seen. It's really amazing and amazingly detailed and the people who play it, love it and I'm gratified to be a part of it." Martin seemed pleased with the outcome of "Elden Ring," and said that he was happy for the fans who've enjoyed it, but he simply can't allow himself to take part and experience the game himself – especially if readers want him to finish the next book in his series.
While Martin's video game days might be behind him, he's certainly kept busy. Martin assured Colbert that he would be finishing "Song of Ice and Fire" series soon. He also said that he's fervently working to promote and nurture other fantasy authors, like Nnedi Okorafor, whose work he's helping adapt for an HBO series.