God Of War Ragnarok Leak Has The Team Apologizing And Beyond Furious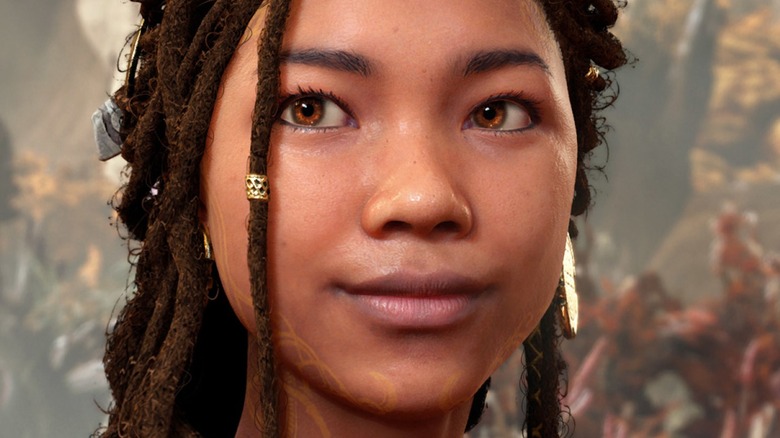 Sony Interactive Entertainment
Sometimes leaks can be exciting, giving fans confirmation that a long-anticipated game is actually in development. Gamers were thrilled to see leaked development footage of "GTA 6," for example, because it confirmed that the game was making progress towards something resembling a playable game. However, other times leaks just spoil the fun for everyone. For instance, that "GTA" leak robbed Rockstar of the chance to announce the project on its own terms. Another example would be when major story details and cutscenes from "The Last of Us Part 2" leaked online, spoiling the game for excited players. Now, leaks of "God of War Ragnarok" seem to be appearing ahead of its release, but fans might be surprised to find out why.
"God of War Ragnarok" was already getting spoiled on social media, and many gamers accidentally stumbled upon scenes from one of the most epic battles in the game – all before even getting the chance to play it. After having some time to collect their thoughts, the developers of "Ragnarok" have now had their own say about the leak, begging players to keep the details of the game to themselves until others have had the chance to enjoy it.
However, the leak isn't the result of some hacker or insider with a preview of the game. Instead, it's a simple case of retailers selling the title early. Here's how "God of War Ragnarok" was leaked, and how the developers have slammed all those involved.
Cory Barlog takes to Twitter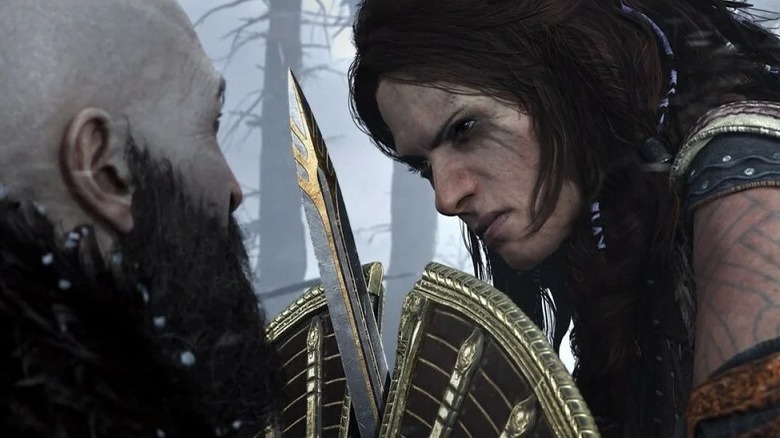 Sony Interactive Entertainment
After footage from the end of "God of War Ragnarok" made its way online, Cory Barlog took to Twitter to share some thoughts on the situation. While Barlog isn't directing "Ragnarok," he did direct "God of War" and is on the team for its follow-up. More than that, he's invested in the franchise and has spoken about its importance – and to blast toxic fans, too. Barlog began his tweet thread by saying that he understands moving to a model where physical game discs are tied to online installers, similar to what "Call of Duty Modern Warfare 2" did with its disc's tiny file size. The logic is that if the disc forces players to download the full game via the internet, there's no way for gamers to access it early without permission.
Barlog said that he doesn't actually want game discs to only include installers, but he did emphasize that he was frustrated with how footage from "God of War Ragnarok" made its way online. Barlog explained that a retailer began selling the game almost two weeks before its release date, which in turn led to some early purchasers putting late game footage online.
"Sorry to everyone that you have to dodge the spoilers if you want to play the game fresh. completely f***ing stupid you have to do this. this is not at all how any of us at SMS wanted things to go," Barlog tweeted.
"Ragnarok" narrative director Matt Sophos also tweeted out a statement to fans, simply telling them to stay away from the internet for a couple of weeks to avoid spoilers. "I'm really sorry if anyone's had our game spoiled in any way. We've really tried to keep things fresh and surprising for you," he said. 
Santa Monica Studios' official statement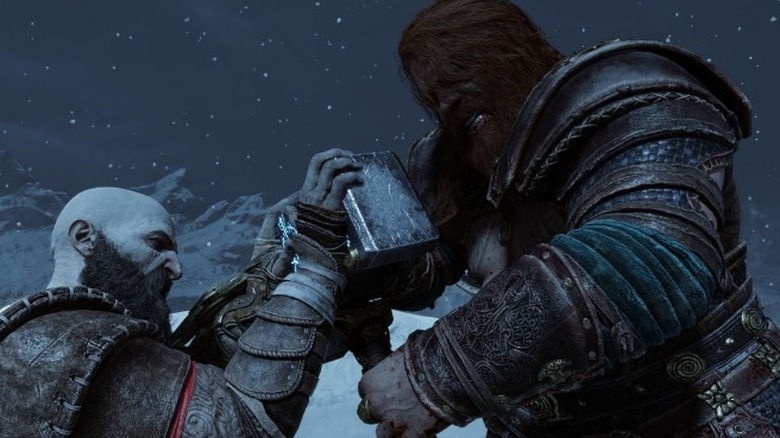 Sony Interactive Entertainment
Santa Monica Studio also shared a statement to fans, advising them to try to avoid spoilers for "God of War Ragnarok" as best they could. "We are doing our best to limit the exposure of unsanctioned footage and screenshots," the studio shared. "But the reality is that we cannot catch everything. For those of you who do not want to see anything before launch, we strongly advise that you mute any keywords or hashtags associated with the game until release day."
The message was serious in tone, with an uplifting ending promising players that the end product will be worth waiting for. Santa Monica Studios turned off replies to its message, but fans quickly showed their support elsewhere, sharing in the developers' disappointment and helping others set up blocking software to avoid being spoiled.
Some gamers suggested that Sony should sue the store that sold "God of War Ragnarok" early. Others wondered if the spoilers even existed at all, writing, "Hearing all these people scream about GOW spoilers but have yet to see a single 1. Think [you] have to be actively seeking them out to see them."
Regardless of if gamers are being accidentally spoiled or seeking out information, Santa Monica Studios encouraged gamers to be wary of what they see online and hold out until the Nov. 9 release date.