The Tiny Ragnarok Detail That Has More Meaning To Kratos Than You Realized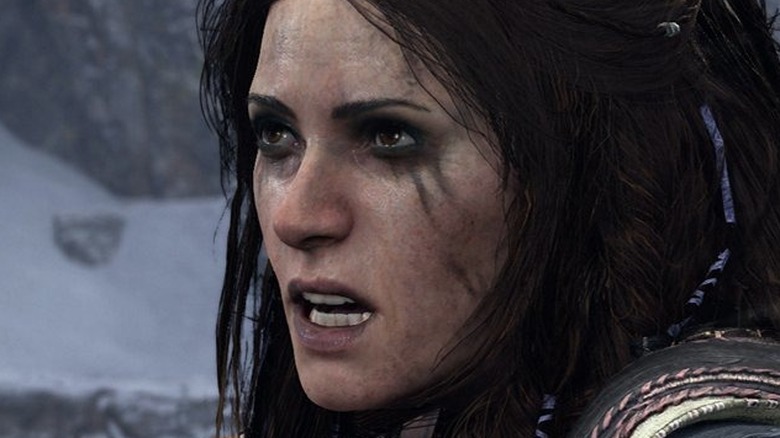 Sony Interactive Entertainment
"God of War Ragnarok" is coming to fans on November 9, 2022, and early reactions to the game have all said the same thing: the game's improved in nearly every aspect of the previous title. While combat might have felt a little lacking in Kratos' last adventure, the Combat Designer explained that brutality has been turned up for "God of War Ragnarok" – which has some veterans excited. However, the game isn't all brawl and no brain, as even Kratos' costume in "Ragnarok" has more meaning than many fans may realize.
A PlayStation blog post from October 20, 2022, showcased an interview with Art Director Raf Grassetti to discuss the new appearances for Kratos and Atreus in "Ragnarok" while also offering a guide cosplayers at the same time. One part of the interview focused on Kratos' right bracer. Said bracer is held together with a strip of fabric that some players might recognize but not realize the significance of.
In 2018's "God of War," Kratos' design includes strips of the very same cloth that act as bracers on each of his arms. At the end of the game, a powerful moment happens that involves the fabric, and the team wants players to reminisce on the impact of this moment in the newest game.
Kratos' emotional reveal in 2018 is remembered
Art Director Raf Grassetti explained that the 2018 "God of War" ending included Kratos taking off these bandages-turned-bracers and, in turn, revealed his scars to his son. This was the first time Atreus saw his father's scars, which Quora user Jon Kohler explained were proof of his time as a slave and evidenced his past life — where Kratos murdered his family with the same weapon that left those scars.
This is a significant experience for Kratos' character, who strove to keep his prior life a mystery to Atreus, and the art team wanted to bring a sense of that to "God of War Ragnarok." Kratos' right bracer has a strip of this cloth holding things together as a tribute to the wraps he let loose in the wind at Jotunheim.
Grassetti was proud of this little detail and wanted fans to notice it. Since it's paired with the game's cosplay guide, future Kratos cosplayers will hopefully know why that little strip of cloth is important to the armor. Many fans commenting on the scene also consider it among the most touching moments in the 2018 game, so it's clear why it holds just as much meaning to the game makers as it did to players.