Streamer Brings Yu-Gi-Oh! To Life With Real Battle Board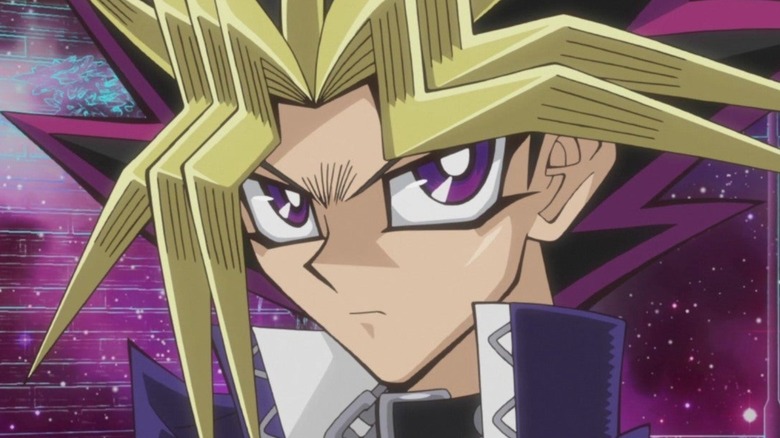 Viz Media
Originally founded as a manga series back in 1996, "Yu-Gi-Oh!" has since become a huge media franchise that has spawned anime series, video games, and its most popular component, a card game. Similar to other Japanese anime series that have become popular in the West, such as "Pokémon," "Yu-Gi-Oh!" focuses on collection items and battling others. Duel Masters use cards to battle amongst themselves, and these cards, when summoned, take the shapes of mythical monsters who fight it out with the monsters of their opponents' decks.
In its anime adaptation, the monsters in the cards can be seen transforming into life-sized behemoths that battle in a much more aesthetically engaging way for the viewer. Predictably, real-life "Yu-Gi-Oh!" card duels do not replicate this experience, forcing its players to simply imagine what it would look like if these cards actually contained the beasts they depict. While it would be cool to see the monsters engaging with each other, it's just not possible — until now. One huge "Yu-Gi-Oh!" fan has used his knowledge of technology to create a space where monsters come to life as each card is placed on the table, just like in the anime.
Twitch streamer SuperZouLoux realizes a childhood dream
After being inspired by similar tech dreamed up by another designer, as well as certain visuals showcased at a show hosted by French rapper Orselan back in March, YouTuber and Twitch streamer SuperZouLoux envisioned creating a "Yu-Gi-Oh!" board that would mimic the life-sized monsters seen in the anime. After 7 months of work, the content creator hit a breakthrough and now has a functional board that uses 3D models to recreate this effect. "I managed to create a 'Yu-Gi-Oh!' connected mat that recognizes all the cards I put on the mat and is connected to several applications that are directly linked to the live event," SuperZouLoux said of the unique "Yu-Gi-Oh!" mat he's created.
The effect of monsters popping out of cards isn't a practical effect. Instead, it is done through each card having a chip placed inside of it and Unreal Engine creating the effect for a screen depicting a live battle for viewers. When SuperZouLoux streams on Twitch, his viewers will see both the cards he's physically playing in real life and the 3D monster models he has programmed to correspond with each card. The "Yu-Gi-Oh!" mat itself is also wired up to recognize each card as it's placed down and trigger the appropriate effects. Some things, such as Unreal Engine, SuperZouLoux taught himself through YouTube tutorials as well as trial and error. Other things, such as the electronic mat, were done in conjunction with friends. Each attack initiated can be done through voice recognition, giving the illusion of a real "Yu-Gi-Oh!" battle.
SuperZouLoux plans to use this setup for all of his future Twitch stream "Yu-Gi-Oh!" battles.