Marvel Snap: How To Get More Gold Without Spending Money
As "Marvel Snap" continues to take over the world of mobile gaming, a growing number of players are looking to snag as much of the game's in-game currency, gold, as possible. A card battler featuring the many iconic characters of the Marvel Universe, "Marvel Snap" stands out because of its accessibility. Outlets like Forbes and Bloomberg have praised the title for its lack of reliance on microtransactions, but that doesn't mean it avoids the trap completely. After all, in order to compete in the mobile gaming market nowadays, in-game purchases are pretty much a must. 
Sure, you can buy "Marvel Snap" gold with real-word cash. However, there are also a few other methods players can utilize in order to earn gold if they don't want to pay-to-play. These methods may take a little more time and energy, but at least you won't have to empty your wallet.
Complete matches and missions to earn gold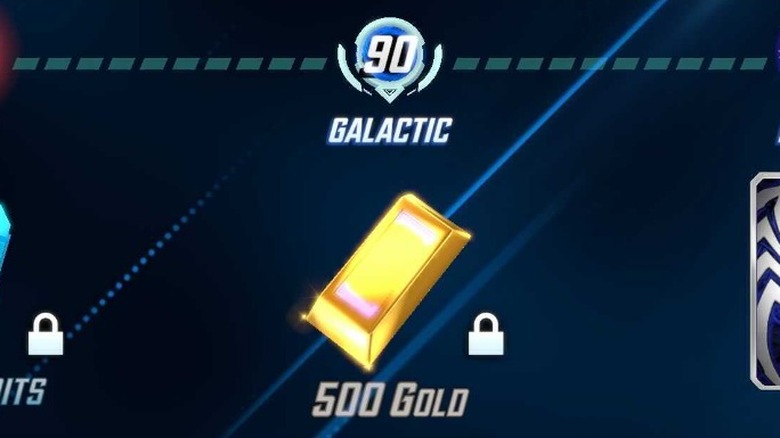 Nuverse
The quickest path to earning as much free gold in "Marvel Snap" as possible is simply playing as many matches as you can. Every time you win, you climb one step up the Season Ranked Rewards. During the current "Symbiote Invasion" season, if you make it to level 90, you'll net a whopping 500 gold. Then there's the Season Pass. Although you have to pay for full access to the pass, some of its rewards are free for all players. This season, there are two gold rewards. In order to climb up the season pass rankings, the player simply needs to complete missions, which can be as simple as playing a few cards of a certain ranking.
If you complete enough missions, another opportunity for gold emerges. Every week, there are special rewards for completing 5, 10, 15, 20, and 25 missions. One of these rewards, at each level, is a certain amount of gold. For each of the five rewards, you'll earn 10 gold, 15 gold, 25 gold, 50 gold, and finally, after completing 25 missions, 100 gold. In addition, the developers send players some free gold from time to time. So, if you're not looking to pay any actual money, don't fret. There are still plenty of ways you can earn some gold. It just might take a little bit longer.