Overwatch 2: Everything We Know About Rammatra
Blizzard
"Overwatch 2" had some good and bad changes from the original, but one of the best benefits of the sequel is the new heroes that came with it. Junker Queen, Sojourn, and Kiriko were unique additions that added to the lore of the game. Blizzard announced the new hero for Season Two at the Overwatch League Grand Finals, inspiring even more excitement for a new tank.
Meet Rammatra, the omnic monk tank with similar ideals and training as Zenyatta, but tainted by the woes of reality. However, where Zenyatta is a Support who's focused on helping anyone and everyone he sees, Rammatra is much more focused on helping omnics alone.
There have been some rudimentary details about his abilities revealed in various interviews. According to an interview after his reveal, Rammatra will be able to change forms. His regular form includes a Barrier Shield and a staff that deals ranged damage. When he transforms, he gets larger and can use a powerful punching ability that can possibly break other shields.
More insight into his background — like his reasons for fighting as the leader of Null Sector — was given with an Origin Story video.
Rammatra and omnic justice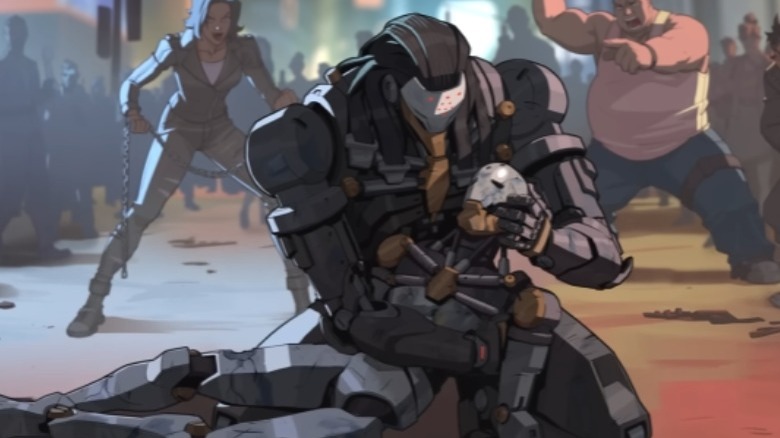 Blizzard
According to Rammatra's origin story, he's studied how to live peacefully in harmony with the humans of the world. However, that led to death and destruction for the omnics at the hand of said humans. The video explained that the existence of omnics is "a miracle," and Rammatra wants to fight for the single generation of robots that make up the omnics.
While his origin story doesn't explicitly say anything about what happened, there's a scene of Rammatra holding a dying omnic in his arms. From the stance, it looks like it was supposed to be someone important to Rammatra, which may contribute to the trauma that Blizzard said he experienced. After the destruction that humans brought to his people, Rammatra is fighting to find a place for the omnics that doesn't include humans, and he's willing to do anything to see that vision come to light.
Season Two is set to start on December 6, 2022, and Rammatra will be added to the game then. According to The Omnic Post, Rammatra will be available at tier 55 of the battle pass. While fans have speculated about Rammatra's abilities and combat style, Blizzard hasn't released official details just yet.