Doom Eternal Composer Fires Back At Id Software With Abuse Claims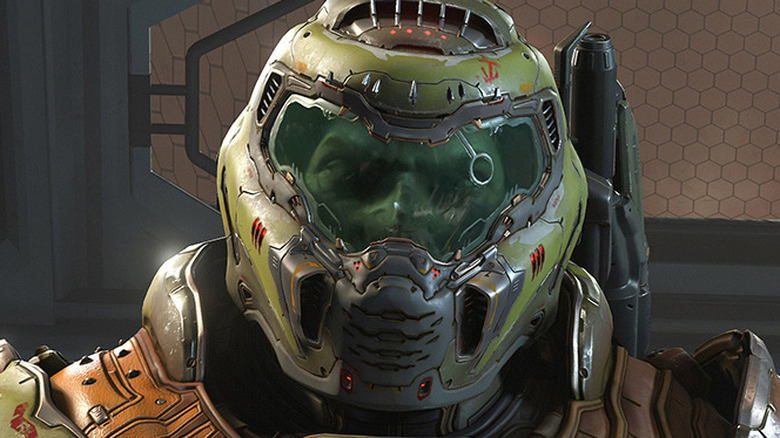 Bethesda Softworks
2020's "Doom Eternal" is a perfect example of when everything in video game is perfectly executed. Whether it be the doubling down on the "Doom" series' signature violence, the excellent level design, or its absolutely bombastic ending, "Doom Eternal" delivers on virtually every front. Helping this frenetic and chaotic experience along is the game's hard-hitting soundtrack, composed completely by Mick Gordon. Featuring down-tuned bangers such as "The Only Thing They Fear Is You" and "Hell On Earth," Gordon's soundtrack resonated far beyond being the backing track for the demon-killing violence featured in "Doom Eternal." In fact, its popularity grew so big, that the release of the original soundtrack (OST) for the game became highly anticipated in and of itself.
Eventually, the OST did hit music retailers and digital storefronts on April 20, 2020. However, controversy sparked when fans discovered that Gordon had only mixed a handful of the songs featured on the gargantuan 59-track album, leaving the remainder of the album to have audible differences when it came to compression and mixing from the versions featured in the actual game. According to id Software executive producer Marty Stratton in an open letter to "Doom" fans, Gordon was initially allowed to produce the entire album himself but later had to remove him from the project after he missed his deadline. But according to Gordon, this isn't the case. Actually, if Gordon is to be believed, id Software completely threw him under the bus.
Mick Gordon blames id Software for abuse following the open letter
In a lengthy blog post made to Medium, Gordon defended himself against the claims made by Stratton and id Software in the open letter. Gordon alleged after a very hostile conversation in which he and Stratton, despite arguing for over an hour over Skype, vowed to show unity when addressing the issues with the OST to the public. "Marty reassured me a positive outcome was his only focus," Gordon said in his Medium post. "He insisted he had no intention of doing anything to disparage me or my work and only wanted to overcome the situation with a professional and collaborative approach." Instead, Gordon alleges, Stratton went to Reddit merely days later.
As a result of Stratton openly blaming Gordon's lack of time management when it came to mixing and editing the "Doom Eternal" OST, Gordon claimed that many fans of "Doom" flooded his email inbox with violent threats, and even went as far as to email other collaborators he was working with in order to get him removed from those projects. "I began receiving specific expressions of violence, the content so vivid it made me sick," Gordon said.
After the whole controversy unfolded, Gordon alleges that Stratton offered him a six-figure settlement in order to never speak of the matter again. However, the terms of the settlement supposedly meant that Gordon would be barred from ever speaking about the project at all. Gordon explained in his post that the truth was more important than money.