Pokémon Scarlet And Violet Has A Daft Punk Tribute Fans May Have Missed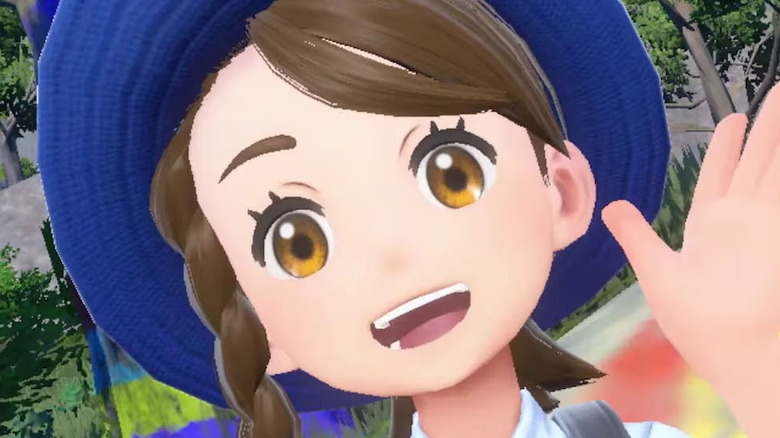 Nintendo
If you are even a casual listener of electronic music, it's likely you've heard of the group Daft Punk. The French DJ duo — known for their signature robot masks and energetic live performances —  had a career that spanned nearly 30 years from 1993 to 2021 during which they released several acclaimed albums, collaborated with international superstars such as The Weeknd and Pharrell Williams, and even scored films like 2010's "Tron Legacy." But even with their storied history, fans might be surprised to learn that the group was seemingly the subject of a subtle tribute in "Pokémon Scarlet" and "Violet."
In "Pokémon Scarlet" and "Violet," players are able to choose between two main characters. After choosing between the two, the player can customize their outfits in any way they see fit. Customization options range from hair styles, hats, phone cases, glasses, shirts, and a variety of other things throughout the game. As a tribute to the group, Game Freak has placed a customization option in the game that fans of Daft Punk should both enjoy and appreciate. However, the tribute can only be found in one particular store, which means that it isn't necessarily easy to find.
One of Daft Punk's signature helmets is available in Pokémon Scarlet and Violet
Nintendo
Daft Punk fans playing "Pokémon Scarlet" and "Violet" will be able to purchase one of the DJ duo's iconic masks from one of the in-game stores. If you've already gained access to the area, travel to Cascarrafa. Mind you, access to Cascarrafa is unlocked later in the game, so it might take first-time players some time to get to this particular store. Once in Cascarrafa, visit the Seguro Style store near the local Pokémon gym. There, you can navigate to the Headgear section and purchase the Cool Helmet, which will cost you 4,000 in cash or League Points.
As fans have noticed, the Cool Helmet bears a striking similarity to the space suit-like helmet sported by Daft Punk member Guy-Manuel de Homem-Christo. Should you wish to emulate Homem-Christo's look exactly, then it is recommended you buy the gold version of the helmet. However, if individuality is more your thing, then you're in luck: The Cool Helmet comes in an assortment of colors you can choose from.