Every Weapon You Can Get In Fortnite Chapter 4 Season 1
The latest chapter in the "Fortnite" arc is set to begin soon. Much like previous evolutions, this new one will be packed to the brim with new goodies for players to enjoy, including new weapons.
"Chapter 3 – Season 4" of "Fortnite" has officially come to a close, and in its place, "Chapter 4 – Season 1" has begun. Judging by its launch trailer, this new chapter in "Fortnite" is shaping up to be a fun one, complete with new gadgets, surprises, and collaborations. Even Geralt of Rivea from the legendary "The Witcher" series is getting in on the action.
Advertisement
Of course, with new additions also come new weapons for "Fortnite" players to try out on the battlefield. And if you're one of those players looking forward to the shiny new weaponry Epic Games will produce, you're in luck, as the latest batch of new weapons includes at least six new firearms you can utilize.
Chapter 4 - Season 1 adds 6 new weapons to Fortnite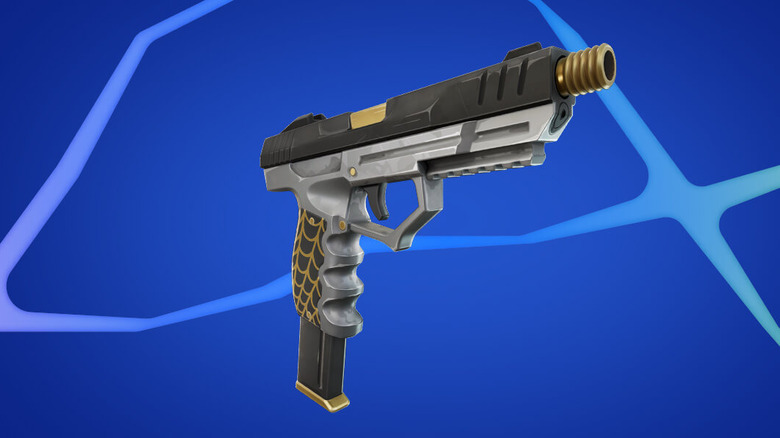 Epic Games
As part of the "Chapter 4 – Season 1" update, "Fortnite" will be receiving six new weapons in total. The newly introduced weapons include the Ex-Caliber Rifle, Red-Eye Assault Rifle, Thunder Shotgun, Maven Auto Shotgun, Twin Mag SMG, and the Tactical Pistol. Considering the new update contains two rifles and two shotguns among six new weapons, it's obvious that stopping power seems to be the theme this season.
Advertisement
In terms of each firearm's individual abilities, they all vary. The Ex-Caliber Rifle is oddly shaped with what looks to be a purple crystal protruding above the barrel of the weapon. In function, it fires off explosive rounds that are sure to deal tons of damage and is quite comparable to the already existing Boom Sniper. The Red-Eye Rifle seems to be a traditional assault rifle, but with a red dot sight built in.
Joining the two rifles are two new shotguns, namely the Thunder and the Maven Auto. The Thunder Shotgun is described as "a pump-action shotgun that deals high damage and shoots two rounds at a time," and sounds like an overpowered tool when it tight spaces. The Maven Auto Shotgun is a full automatic that doesn't match the Thunder in power, but makes up for it in range.
Advertisement
Completing the new additions are Twin Mag SMG — a submachine gun tailor-made for quick reloads — and the Tactical Pistol which is a fully automatic handgun with impressive stopping power.