A Lot Of Ambitious Trial And Error Went Into The Tomb Raider Reboot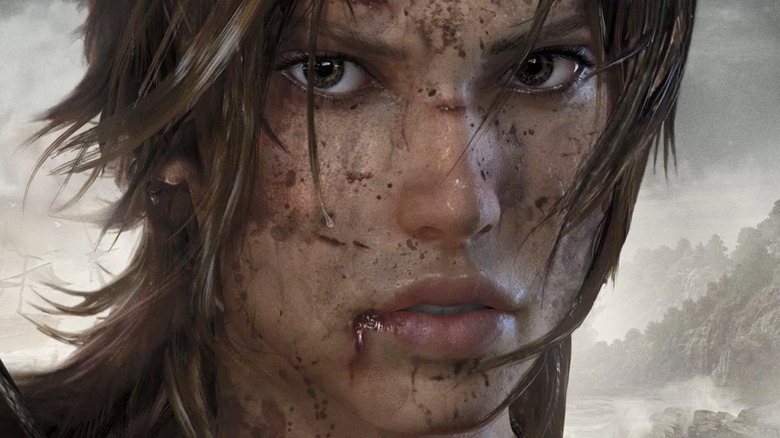 Square Enix
In the early 2010s, the "Tomb Raider" franchise had entered a transitional period. After two new games ("Legend" and "Underworld"), a remaster called "Anniversary," and the spin-off "Lara Croft and the Guardian of Light," the series needed some rejuvenation. By the time developer Crystal Dynamics had settled on creating a new "Tomb Raider" game, the landscape of the adventure genre had changed. Ubisoft had just published the highly influential "Assassin's Creed," while Naughty Dog had already churned out the first "Uncharted" entry. 
Crystal Dynamics dedicated itself to modernizing "Tomb Raider" and offering fans something different. This meant that "Tomb Raider" would receive a reboot and undergo a major transformation. This transformation came in the form of "Tomb Raider," a complete reboot for the series, in 2013. Though warmly received by both critics and gamers, creating this entry wasn't as straightforward as past titles were for Crystal Dynamics. Instead, the reboot was born following a ton of experimentation before the final product came to be.
Crystal Dynamics scrapped several ideas to preserve Tomb Raider's essence
In the lead-up to the "Tomb Raider" reboot, Crystal Dynamics experimented with various elements, including melee boss fights with mythical creatures and Lara using a horse to traverse the map. "Lara had a horse for a while [because] the original island that the game actually ends up taking place on was much larger and you would travel around the island on your horse," said studio creative director Noah Hughes. After that idea fell apart, Crystal Dynamics tried to incorporate a motorcycle.
Other ideas such as Lara having a companion and an open-world design were also discussed by the development team. Ultimately, none of these ideas were implemented out of fear of straying too far from the core "Tomb Raider" formula. Instead, Crystal Dynamics decided to pivot towards the series' adventure roots with survival serving as a core tenet of what would eventually become 2013's reboot. "I think the big factor was we sort of went off and we tried a bunch of things and we tried a bunch of different combat models and different mechanics and different settings," Hughes explained. "And the farther that we got away from the core of the franchise, the less it felt like 'Tomb Raider' and more just like a different game."