How To Get The Breaking Bad RV In GTA 5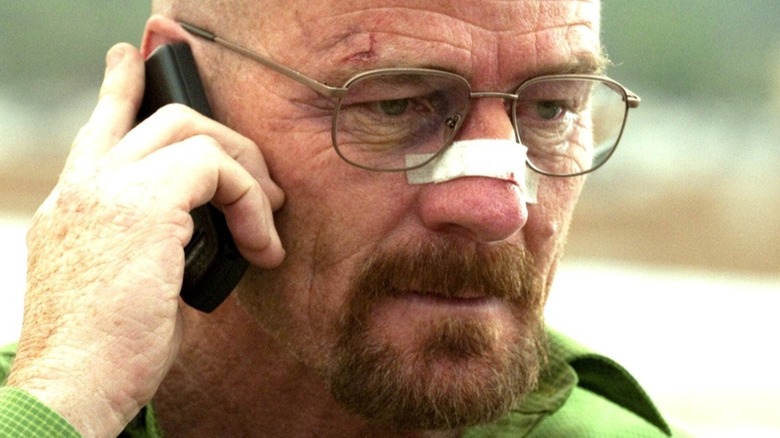 AMC
The "Breaking Bad" RV has lived on as one of the most iconic bits of imagery associated with the show. And now, you can drive around in this vehicle in "Grand Theft Auto 5," as well as its highly lucrative online component, "GTA Online."
Ranked among the greatest television shows of all-time, "Breaking Bad" remains a pop culture artifact years after its series finale aired. Not only does it sport a cast of memorable and believable characters, but it also features tons of recognizable props, including the signature RV that main characters Walter White and Jesse Pinkman use to manufacture methamphetamine in lieu of a dedicated lab.
Never a company to shy away from pop culture imagery, Rockstar Games has provided "Grand Theft Auto 5" players with the ability to recreate the "Breaking Bad" RV and take it for a spin around Los Santos and its surrounding areas. However, this will require a small amount of effort first.
The Breaking Bad RV livery is available through Los Santos Customs
First, "Grand Theft Auto 5" players should buy the RV itself by using their iFruit phone and visiting Southern San Andreas Super Autos. The vehicle you're looking for is the Zirconium Journey 2, which is inspired by the same 1986 Fleetwood Bounder RV seen in "Breaking Bad." The price of the Zirconium Journey 2 is listed at $592,500, as verified in YouTuber MrSamuelSir's video. Once you purchase the vehicle, it's time to give it the same livery on display in the TV series.
To do this, visit the nearest Los Santos Customs. Start by changing the base color of the Zirconium Journey 2 to an off-white cream shade. Once you've done that, select the "Livery" option. There, you'll find a long list of liveries to place on the vehicle. The one you want prices in at around $20k and is called "Cooking Time," a clear reference to "Breaking Bad." This livery will provide the RV with the signature lines seen on Walter's Fleetwood Boulder in the show. Of course, the bullet holes on the door don't come with the livery, but they shouldn't be too hard to come by in a game like "Grand Theft Auto 5."