Top Twitch Streamer Ibai Reveals Devastating News About His Eyesight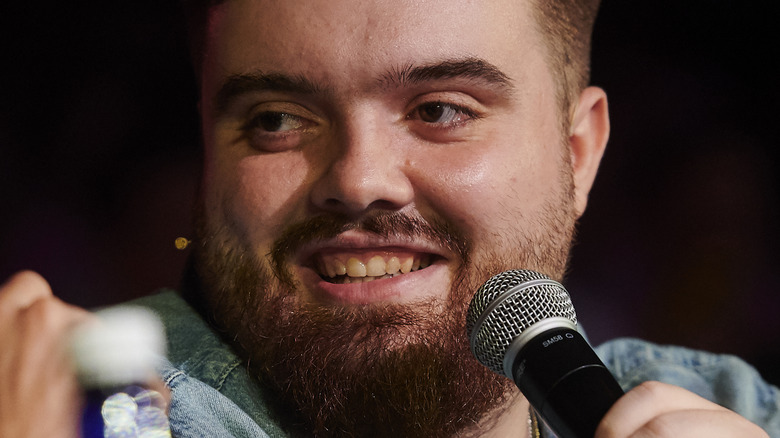 Borja B. Hojas/Getty Images
Ibai Llanos – who simply goes by Ibai on his channel – is a Spanish language streamer on Twitch with over 12 million followers and a mighty presence in the sports world. Ibai set a Twitch record for most concurrent viewers at once, with over 3 million people tuning in to his broadcast before a boxing match (via Dot Esports). While Ibai's fame didn't happen overnight, he one of the streamers who absolutely dominated 2022, racking up over 108 million cumulative hours watched throughout the year. Still, fame doesn't shield streamers from devastating personal problems, and Ibai is now facing a health scare that could drastically alter his career.
Ibai previously reported that he'd been having trouble with his left eye, but says that now his right eye might also be in danger. Ibai has an unspecified degenerative eye disorder that is greatly affected by another diagnosis: sleep apnea. For those not in the know, sleep apnea can cause patients to periodically stop breathing throughout the night, which doesn't allow the body to rest properly. This can, in turn, affect blood pressure, the risk for diabetes, and energy levels – among a host of other connected medical conditions.
Ibai told his followers about the condition in a straightforward way, saying, "I got some news, well, I got a message, from the professionals that treat me, telling me that I might go blind. ...the fact that there's a high chance of me going blind, because apparently, if I have a degenerative problem in my left eye, my right eye will end up with the same problem." (translation via Dexerto). Fans immediately expressed their worry for their favorite streamer, and speculated about what might happen to Ibai in the future.
Fans had varying reactions to the news
For now, Ibai doesn't know what will happen, but said that he might be able to save vision in his right eye through consistent use of a CPAP machine, which is used to treat sleep apnea. As with many medical conditions, it's unclear if treatment will be successful or not, but Ibai does have a chance of saving his vision, even though his left eye already has significantly impaired vision.
Fans around the world quickly began to chat about the medical condition online, speculating about what Ibai might be experiencing and what sort of treatment he may want to look into. Mostly, fans just wanted to show their support for a streaming legend. On Reddit, one gamer simply commiserated with Ibai, saying that losing their eyesight was one of their biggest fears. Another brought up the viral streamer Skyrim Grandma, who also feared she'd lose her eyesight before getting to play the next "Elder Scrolls" game. Other commenters weren't so generous, with several speculating that Ibai's condition is somehow due to his weight.
Other fans took the opportunity to discuss their own health problems, as Ibai's issues brought attention to fans' health as well. Many gamers parsed through their own experiences with sleep apnea and eyesight in the comments of a Reddit post, trying to determine if they, too, might need to conduct a sleep study and get their own CPAP machines. While Ibai doesn't owe fans an explanation about his health, or even regular updates, his willingness to be vulnerable clearly caused others to evaluate their own risks for degenerative eye disorders.
The disabled streaming community is expansive
While Ibai may be able to save his vision, he certainly wouldn't be alone if he did enter into the disabled streaming community, which is a surprisingly vibrant group of creative content producers and gamers. While video game fans might know of many prominent disabled video game characters, there's also a huge community of disabled gamers who have made their mark on the streaming space.
Several streamers with rare medical conditions have spoken out about their experiences online. For the most part, streaming platforms like Twitch have attempted to be accommodating to disabled streamers. For example, Twitch won't ban Sweet Anita, a gamer who has Tourette's Syndrome, because her disability causes her to break community guidelines at times. By working with streamers directly, it's possible that platforms might become even more friendly to disabled gamers in the future.
Some streamers, like Superblindman, work to promote blind streamers specifically, showing that it's possible (with the help of technology). Some visually impaired gamers have worked to craft detailed guides to help others begin their streaming journeys with the help of text-reading software and streaming tools.
Regardless of how Ibai's condition progresses, his talent for commentating on matches – in both the IRL sports and esports arenas – and his passion for streaming appears to be unstoppable.