Fire Emblem Engage's Alfred Has A Surprising Connection To A Stranger Things Star
At first glance, gamers would have no way of knowing about a surprising connection between "Fire Emblem Engage" – the next chapter in the series – and the hit show "Stranger Things." The two pieces of entertainment don't share any significant crossover – one is a tactical RPG and the other is a mystery thriller, not to mention the fact that they're completely different mediums of entertainment. Both share some elements of fantasy, but other than that, they're as different as night and day. To the surprise of many fans, a hidden thread binds them together – and it's incredibly easy to miss.
Already praised for its incredible combat by many a critic, "Fire Emblem Engage" has fallen a bit short in the story department. That detail aside, it still has some standout performances in voice acting, including the role of Alfred. This lance-wielding noble fights on horseback and represents one of the game's many new characters. He's also the key to a connection with "Stranger Things."
Since the link between "Fire Emblem Engage" and "Stranger Things" is between two of its actors, it's incredibly hard to catch, given the fact that the game is animated. In reality, many gamers probably aren't aware of who is voicing the characters. One of the actors in question is Alfred's English voice actor, Nick Wolfhard. If that last name sounds familiar, it's because it's shared by another actor who is widely known.
Alfred and Mike Wheeler's actors are brothers in real life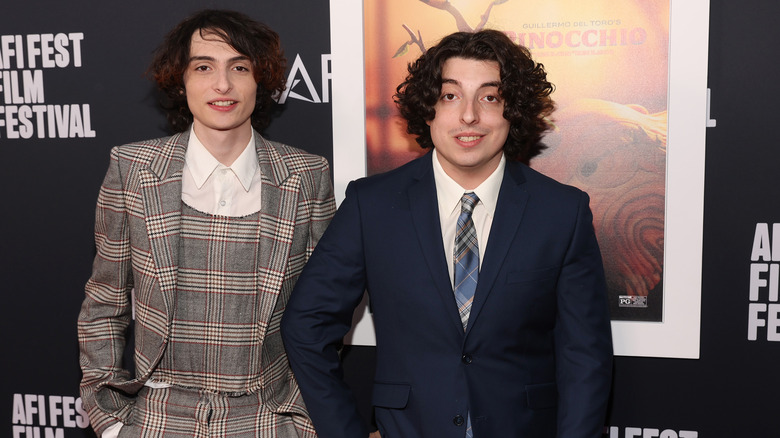 Jesse Grant/Getty Images
As it turns out, Nick Wolfhard is the older brother of Finn Wolfhard, the actor who plays Mike Wheeler, one of the main characters in "Stranger Things" (via HITC). Though they're five years apart, the two brothers have plenty in common, given their shared love of acting that runs in the family. According to iMDB, both actors are the nephews of Hadley Kay, an actor known for roles in "Superman" and "The Care Bears Movie," among others. Their dad Eric Wolfhard also has a history of production and screenwriting.
Both brothers are stars in their own right. Nick is known for voice roles in "The Last Kids on Earth," "Beyblade Burst," and even "My Little Pony: Friendship Is Magic." Finn has acted on-screen in "It" and "Ghostbusters: Afterlife" among many other roles, and he has also scored voice acting opportunities, including projects like "Guillermo del Toro's Pinocchio" and "Carmen Sandiego." Finn also has a musical side, as evidenced by his involvement in bands including Calpurnia and The Aubreys. Given their success early in their careers so far, it'll be interesting to see how each of the Wolfhard brothers' careers continue to unfold.