The Last Of Us Episode 2 Included An Easter Egg For Uncharted Fans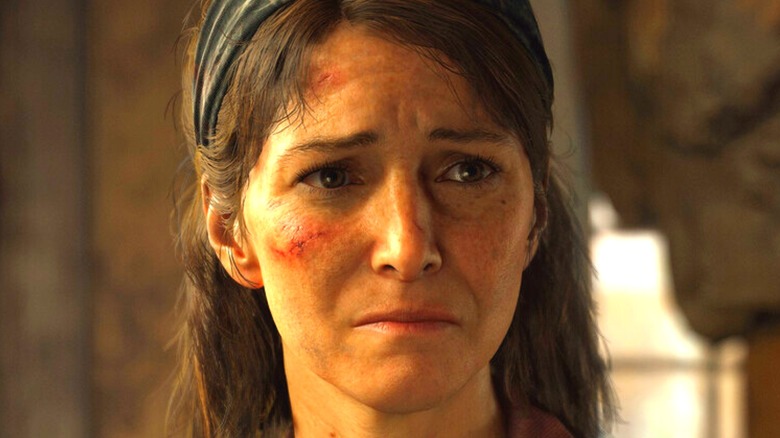 Sony Interactive Entertainment
HBO's adaptation of "The Last of Us" adaptation had critics and fans raving. Considering one of the best scenes in the episode wasn't even in the game, there were high hopes that the series would continue to knock it out of the park. Episode Two seemed to also enthrall fans, and part of that could be attributed to the small details throughout the ep. Many Naughty Dog fans noticed an "Uncharted" Easter egg, in particular. 
The official Naughty Dog Twitter account explained that some fans might have noticed that a lighter Tess used in Episode Two looked familiar, and shared a picture of said lighter. The boxy Zippo lighter had a star on the bottom and a 76 between two stars up top. The tool is actually from another Naughty Dog title: "Uncharted 4: A Thief's End." This isn't the first time "Uncharted" has been seen in "The Last of Us" titles, either.
Uncharted and The Last of Us
Twitter user @UnEspectadorMaz shared a screenshot from "The Last of Us" game that held another "Uncharted" Easter Egg. It might've been easy to miss, but the image is immediately recognizable. Joel finds a copy of an "Uncharted" board game in a store. Another fan shared images from "Uncharted 4: A Thief's End" of the lighter in question, which is identical to the one on HBO's "The Last of Us," down to the font of 76.
Gamers were ecstatic to see the nod to the other Naughty Dog franchise. Some came up with fan theories that Sam and Tess met in Detroit in alternate universes or wondered if the two franchises are connected in the original worlds.
This isn't the first time people have had the idea that the series are connected. Back in 2021, Reddit user u/kheinrichs547 realized that the pills in "Uncharted 4" are from Weston's Pharmacy, which is the same pharmacy in "The Last of Us Part 2."