The Last Of Us Episode 3 Finally Confirms A Major Fan Theory About Bill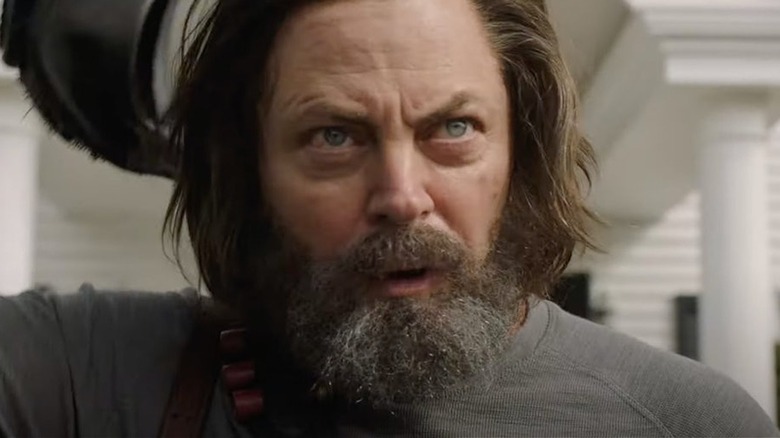 HBO
Contains spoilers for "The Last of Us" Episode 3 – "Long Long Time"
HBO's adaptation of "The Last of Us" continues to not only impress casual viewers, but also illuminate and even expand upon stories only hinted at in the award-winning video game. The third episode of the series has been hailed by critics as a masterpiece in storytelling. Even reviewers who have seen the entirety of the first season ahead of time are calling "Long, Long Time" the high point of the show's first year. Acting as both a side story and prequel to the events surrounding Joel and Ellie's journey, the episode focuses on the love story between Frank and Bill, two men who make an idyllic life for themselves outside the horrors of the government's quarantine zones.
Viewers get to see Bill and Frank — played by Nick Offerman and Murray Bartlett, respectively — spend nearly two decades together, cleaning up their town, defending their home, and eventually getting married in an incredibly emotional sequence. Not only has the portrayal of their romance been applauded by many critics as an improvement over the original game's storyline (per CNN), but it also finally confirmed a longstanding fan theory about Bill.
The Last of Us makes Bill and Frank official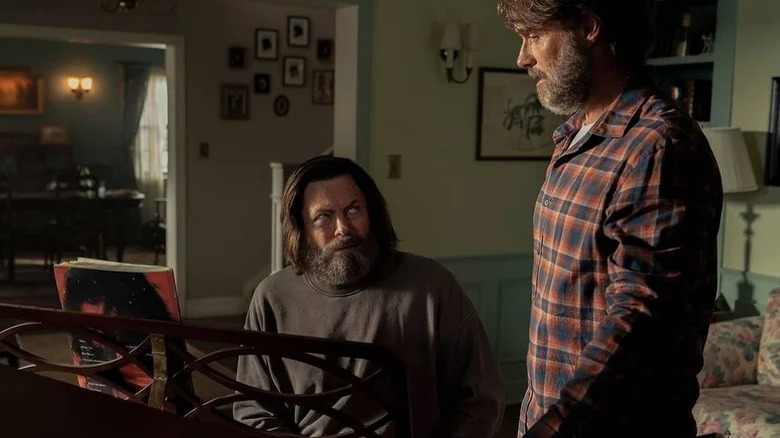 Liane Hentscher/HBO
Although never stated outright in the original video game, it is heavily implied that Bill and Frank were partners in life as well as business. Sadly, gamers never got too many details about their lives together, as Frank — who left a note saying how much he despised Bill at the end —  is revealed to have left Bill and taken his own life sometime before Joel and Ellie arrive in town. In the adaptation, fans get to see the pair fall in love and end on their own terms.
In talking to The Washington Post, show co-creator Craig Mazin explained the question the writers had going into this episode: "Can we give somebody a happy ending? And I think they have a happy ending. I do. They win. They get this whole life together. And when it ends, it ends on their terms as they desire. It's also important to show to the audience that there was a chance for things to be okay, and for love to flourish, and to conclude well."
In deviating from the source material, showrunners Neil Druckmann and Craig Mazin were able to not only further explore Bill and make Frank into an actual character, but also give the audience a glimpse of hope and love at the end of the world.