Ozzy Osbourne's Only Video Game Role Was Appropriately Metal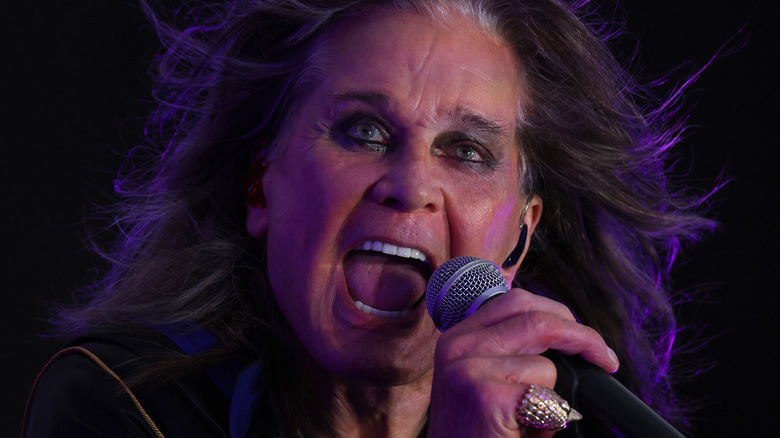 Harry How/Getty Images
After a career that has spanned over five decades, metal musician Ozzy Osbourne announced on Feb. 1 that he will be retiring from active touring as the result of a spinal injury that occurred in an ATV accident back in 2019. "My singing voice is fine," Osbourne said in his statement. "However, after three operations, stem cell treatments, endless physical therapy sessions, and most recently groundbreaking Cybernics (HAL) treatment, my body is still physically weak."
While he is certainly royalty in the metal community for both his stint as the lead singer of Black Sabbath as well as his extensive solo career, Ozzy will also be familiar to gamers for his various appearances in gaming-related media over the years. Several songs, such as Black Sabbath's "War Pigs" and his own "Crazy Train," appeared in the classic "Guitar Hero" series, and Ozzy himself even appeared in a "World of Warcraft" commercial where he comically refers to his character as his classic moniker "The Prince of Darkness" — a title already bestowed on the character Lich King in the game. However, outside of these promotional or otherwise indirect appearances in video game media, Osbourne did have one full-blown role in a video game that was, like his music career, appropriately metal.
Ozzy appeared in 2009's Brutal Legend as Guardian of Metal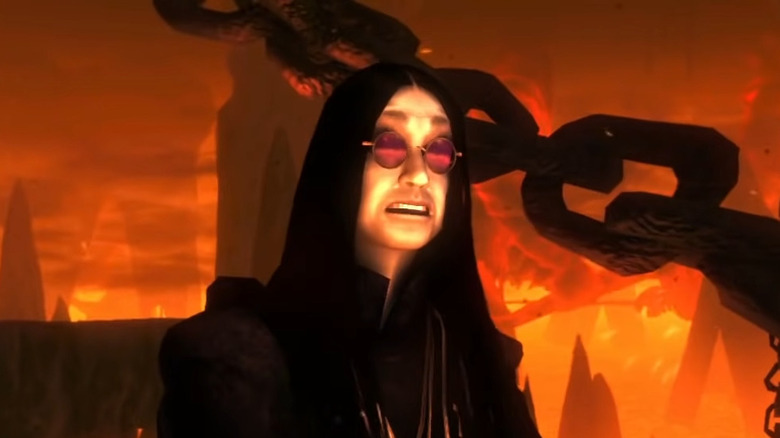 Electronic Arts
Released in 2009 for the Xbox 360 and PlayStation 3, EA's "Brutal Legend" is an action-adventure game that stars Jack Black as Eddie Riggs, a roadie who is transported to a mythical world based completely around iconic metal imagery. Undoubtedly one of the best hidden gems of its era, "Brutal Legend" featured appearances from some of metal's most iconic figures, such as Motorhead's Lemmy Kilmister, The Runaways' Lita Ford, Judas Priest's Rob Halford, and Ozzy Osbourne. Ozzy appears as the Guardian of Metal, who is responsible for helping Eddie upgrade his equipment over the course of his journey. In addition to his voice, Ozzy also lent his likeness to the Guardian of Metal character.
Despite the metal star power that was attached to the game and pretty good reviews from critics, "Brutal Legend" unfortunately ended up as one of EA's biggest flops due to poor marketing prior to the title's release as well as a legal battle between Activision, EA, and developer Double Fine. After Sierra Entertainment — the game's original publisher — was acquired by Activision in 2008, the latter decided not to fund "Brutal Legend" and put it on the shelf (via Destructoid). After EA agreed to publish the game, Activision sued the company to prevent the game's release, which was countered by Double Fine. Eventually, an undisclosed settlement was reached and the game was allowed to be released.