How To Access FFXIV's Valentione's Day Event (And What Items You Can Get)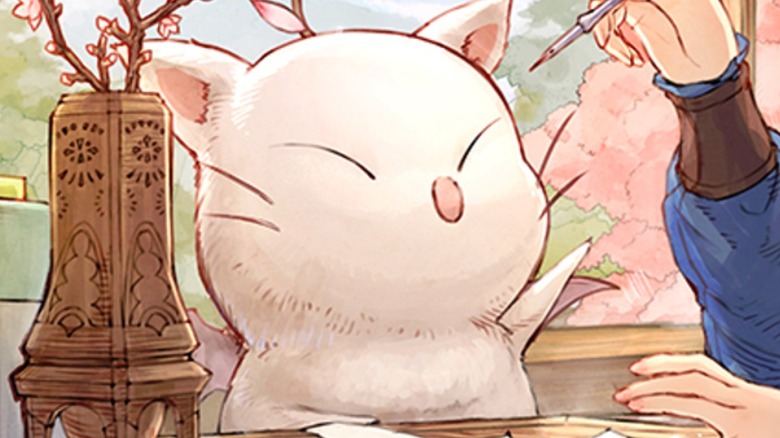 Square Enix
When "Final Fantasy 14" was first released, it was one of Square Enix's games that flopped hard. However, since 2010, the MMORPG has amassed quite a following: an estimated 41.5 million subscribers to be exact. Those 41.5 million subscribers are in for a treat as the Valentione's Day event, "To Thine Own Love Be True," is finally here. From Feb. 1, 2023, to Feb. 15, 2023, players can get excited about new items and potentially get past exclusive items.
The event is pretty easy to take part in. According to the official website, players need to be at least level 15 and have completed the quest "It's Probably Pirates," which is a Main Scenario quest. Most players will have completed it just by playing the game. In order to accept the quest, players will need to speak to Lisette de Valentione, who's located in Old Gridania at location X:10.2, Y:9.4. Here's what players need to know about all the new goodies coming with the Valentione's Day event.
The new Valentione's Day items
This year, "Final Fantasy 14" players can look forward to a few new cosmetic items after completing the event quest. Both male and female adventurers will receive a black hat and black boots. Male adventurers will get a pair of black trousers and a tan and red top that's a bit steampunk in style. Female adventurers will get a pair of tan tights with a red design on the side, along with a brown, tan, and red dress to finish the look.
There's also a new emote called "Eat Chocolate" and an off-center wooden heart table with gold on the side.
The official website also notes that items from prior Valentione's Day events can be found with the maid at House Valentione. While it doesn't specify which items from the past can be obtained, it could be everything from gear to furnishings to even mounts that appeared in older Valentione's Day events.