Embracer Paves The Way For New Lord Of The Rings Movies With Huge Deal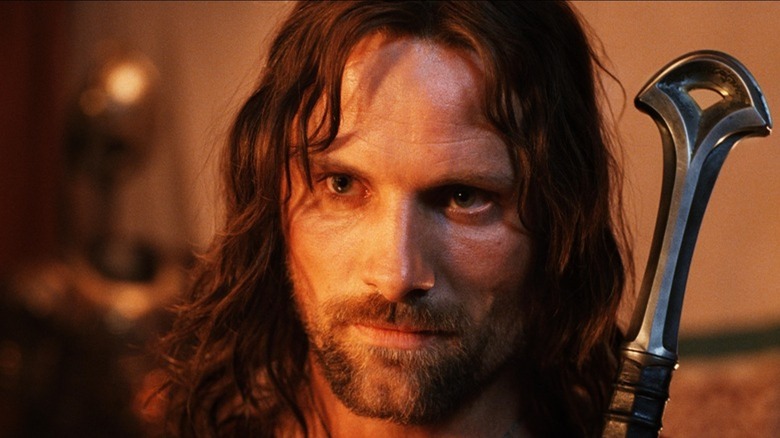 New Line Cinema
Embracer Group, the Swedish gaming and media company that possesses the film rights for "LOTR" (under the name Middle-earth Enterprises), has made a multi-year deal with Warner Bros. Pictures and New Line Cinema allowing for the creation of additional movies.
Embracer Group has had the "LOTR" film rights, games, and beyond since 2022 when it acquired them from The Saul Zaentz Company, which held them for decades after purchasing them from United Artists in 1976. Though Amazon has "LOTR" TV content by way of the "The Rings of Power" series on Prime – which has a second season incoming – the company only owns the television rights to specific works created by Tolkien (per Vanity Fair).
Warner Bros. and New Line previously blew fans away with beloved and rewatchable "LOTR" films, with talk of possible remakes for "LOTR" and "Hobbit" circulating before the announcement of the latest deal. Spin-offs and unexplored content are also possibilities, especially given the plentiful possibilities contained in Tolkien's books.
Executives speak on the future of LOTR films
"We're thrilled to embark on this new collaborative journey ... bringing the incomparable world of J.R.R. Tolkien back to the big screen in new and exciting ways." CEO of Freemode, an Embracer subsidiary, Lee Guinchard said in a statement. "We understand how cherished these works are, and working together with our partners at New Line Cinema and Warner Bros. Pictures, we plan to honor the past, look to the future, and adhere to the strongest level of quality and production values."
Warner Bros. Film Group execs Pamela Abdy and Michael De Luca honored the legacy of the franchise and the support of fans in another statement. The two also added, "For all the scope and detail lovingly packed into the two trilogies, the vast, complex and dazzling universe dreamed up by J.R.R. Tolkien remains largely unexplored on film. The opportunity to invite fans deeper into the cinematic world of Middle-earth is an honor, and we are excited to partner with Middle-earth Enterprises and Embracer on this adventure."
Whatever shape the films take, fans will no doubt look forward to them with bated breath and high expectations. All that's left is waiting for more updates and eventually glimpses at the next generation of "LOTR" cinema. In the meantime, there are already details available for the previously-confirmed animated feature "The Lord of the Rings: The War of the Rohirrim."