Upcoming Free-To-Play Games That Will Blow You Away
Free-to-play games sometimes get a bad rap: microtransactions, pay-to-win, and money walls are seen as frequent problems with the model. At the same time, some of the biggest games in the world are free-to-play: eSports Earnings reports that Dota 2, Hearthstone, Heroes of the Storm, and League of Legends have all had tournaments offering prize pools of at least 1 million dollars. Despite its lack of eSports presence, Fortnite: Battle Royale is arguably the biggest game in the world, surpassing 30 million players in March 2018, according to PCGamesN.
People like free stuff, and several developers are testing the F2P market in hopes that they can gain a playerbase that some of these other huge titles have found. This means the competition in the free-to-play market is ramping up. Let's take a look at some upcoming F2P games that you should keep an eye on, and a few of which can be played in some form right now.
Unreal Tournament is completely open
Brought to us by Epic Games and utilizing Unreal Engine 4, Unreal Tournament is a reimagining of all the best parts of 1999's seminal arena shooter. Not quite a remake and not quite a reboot, Epic is crowdsourcing the development of the title and allowing any fans of the series to contribute. Wiredreports that Epic's hope is that this unique development style will allow the memorable aspects of the original game to stand out.
Unreal Tournament is not just free-to-play: due to its crowdsourced development, The International Business Times reports that Epic plans on making the game entirely free. That means no microtransactions, no paid loot keys, etc. They do plan to have a modding marketplace where modders and content creators can set their own price (or charge no fee, if they so desire), but that is the extent of paid content planned.
All the code for Unreal Tournament is posted online on GitHub if you want to jump into the creation scene. There is a very early version available for download now, and Epic continues to release updates as they are developed.
Magic: The Gathering -- Arena modernizes a classic
Magic: The Gathering — Arena is looking to bring the classic collectible card game to compete with the likes of Hearthstone. This is not a watered-down version of Magic, either: Wizards of the Coast has promised the full experience of the game, and plans to release at least 1,000 new cards to the game every year.
Obviously, the free-to-play version of Magic will see some serious changes to the way cards are obtained. Magic: The Gathering — Arena is still playing with how their in-game economy will work – the closed beta offers eight card booster packs, some of which contain "wild cards." These wild cards can be traded in for cards you need to complete the deck you are working on, which will hopefully allow more players to be competitive even if they are not spending a lot of money. In addition, different modes of play like Standard and Draft are available, with more modes being added as the card pool is expanded.
Magic: The Gathering — Arena is in closed beta right now, and you can sign up for an opportunity to get in the game on its official website.
Gwent is the first spin-off from the Witcher series
Gwent is a full game spun from the side game in The Witcher III: Wild Hunt. You know, the one you either totally ignored or spent far too much time playing. It was like Final Fantasy VIII's Triple Triad all over again: "I know the cockatrice kidnapped your son, but I've got to play this innkeep one more time!" CD Projekt Red has had Gwent in open beta for awhile now, and plans on releasing version 1.0 late in 2018.
Gwent takes an interesting approach to the world of collectable card games. Every match is a best of three, and units do not directly attack one another. Bluffing your opponent into overcommitting is an extremely viable strategy; if they use too many resources to try to win the first game, you can use the powerful cards you held back to clean them out in the next two and take the match. There are a lot of cards in the open beta, but the free-to-play model is relatively generous with card drops and crafting materials, and it is not quite as overwhelming as the card pool in Hearthstone or, god forbid, Magic: The Gathering.
Gwent is playable in open beta right now, but CD Projekt Red is currently developing the full release version, which will include serious balance updates as well as a full single-player campaign.
Dauntless is a new game from veteran developers
Dauntless was announced in early 2017, and is the first game from development studio Phoenix Labs. This is not a complete newbie studio, however; Endgadget writes that Phoenix Labs is headed by Jesse Houston, who produced titles for Riot Games, Ubisoft, and BioWare.
Dauntless is a cooperative action-RPG that puts each player in charge of a character called a "slayer." The planet has been overrun by gigantic beasts called behemoths, and it is a slayer's job to hunt these creatures in order to protect humanity. Players will need to work together to take out their prey, and a successful hunt will allow them to upgrade their stats and equipment to fight bigger, badder beasts.
If this sounds a lot like a free-to-play Monster Hunter: World, that's because Dauntless draws heavy inspiration from that title, along with Dark Souls and World of Warcraft. The beta is available now, but you will need to spend money on a Founder's Pack to get into the action. The open beta is scheduled to begin on May 24, 2018, and players can sign up on the Dauntless website.
Ascent: Infinite Realm is a new breed of MMO
Developed by Bluehole, who brought us the insanely popular PlayerUnknown's Battlegrounds, and published by Kakao, who also published Black Desert Online, Ascent: Infinite Realm (or AIR) is a steampunk-inspired MMORPG that focuses less on grind and more on PvP Realm battles. The trailer makes AIR look like absolute chaos: gigantic beasts, huge mecha battles, airship combat, and more.
PCGamesN reports that the level cap for Ascent: Infinite Realm is set at 30, and it will take players about 30 hours of gameplay to reach that mark. Once there, however, the real game begins, with massive, objective-based multiplayer battles taking place on the ground and in the skies above. With a flashy looking style, five unique character classes, and a combination of veteran developers and publishers, Ascent: Infinite Realm is one to keep an eye on. It is currently in the closed alpha phase, and should be opening up in the United States soon.
Total War: Arena is a simplified version of a strategy classic
The first F2P game in the Total War series sees the game scaled down and simplified a bit, but still focusing on large scale battles and clever tactics. Total War: Arena features 10v10 battles, with each player controlling three units of up to 100 soldiers each. That's 3000 soldiers per side, which is small fries compared to what the Total War series generally offers. However, with separate factions, units, and commanders to choose from, there is still a good deal of strategy to be had in this one.
Sega has teamed up with some serious veterans in the genre as well: Wargaming, who created World of Tanks, World of Warships, etc. The game is available in Open Beta right now, and is available for download on the Total War: Arena website. The factions available at the moment are Carthage, Rome, Greece, and a barbarian horde. With multiple commanders and units available for each faction, there's a lot of content available already. PC Gamer also writes that progress from the beta will carryover to the game's full release, so there's no reason not to get started.
Project TL is the latest iteration of a legendary franchise
Let's get the strange name out of the way first: Massively Overpowered writes that NCsoft officially changed the name from Lineage Eternal to Project TL when they also decided to switch engines and take a lot of other content back to development. This is a game that has been in development for a very long time, as it was first announced in 2011. It is a direct sequel to the original 1998 Lineage; 2003's Lineage II was a prequel.
The Lineage series is a medieval MMORPG that is hugely popular in Korea and China. In 2006, Forbes included the series in its list of best-selling video game franchises, with a sales figure of over 43 million copies sold. Watching the trailer, it looks like a bit World of Warcraft, a bit Diablo, and a dash or two of over the top set pieces. One of the highlights of the original build was the "mouse drag" mechanics, which IGN writes would allow you to "draw skills onto the screen," giving you "much more control over your character's abilities."
The game has gone through a closed beta in Korea already, but the latest setback as the game is transferred to Unreal Engine 4 is a bit disheartening. Hopefully NCsoft gets this one rolling again soon and gives us some more information on when we can get our hands on Project TL.
Soldiers: Arena brings you the greatest conflict in human history, for free
Available now (for a price) in Steam Early Access, Soldiers: Arena is developed and produced by Ukrainian publishing company Best Way. The game is scheduled to release in full sometime in Q2 of 2018, where it will lose the Early Access price and go F2P. It may look like a generic real time strategy game, but Best Way promises a lot of features that will make Soldiers: Arena stand out.
Players can zoom in and take control of nearly any unit in their army from a first-person perspective. Environments are fully destructible, and explosions can carve out spaces in the ground that can then be utilized for cover. Even vehicles take modular damage, which allows players to target vulnerable spots and decommission priority targets.
If you just can't wait, you can jump in the action now on Steam Early Access. Soldiers: Arena already boasts over 200 units across three different factions – USA, Germany, and USSR. According to the Steam page, the game will be released out of Early Access and drop its price tag "when it's ready."
Lost Ark Online is all about customization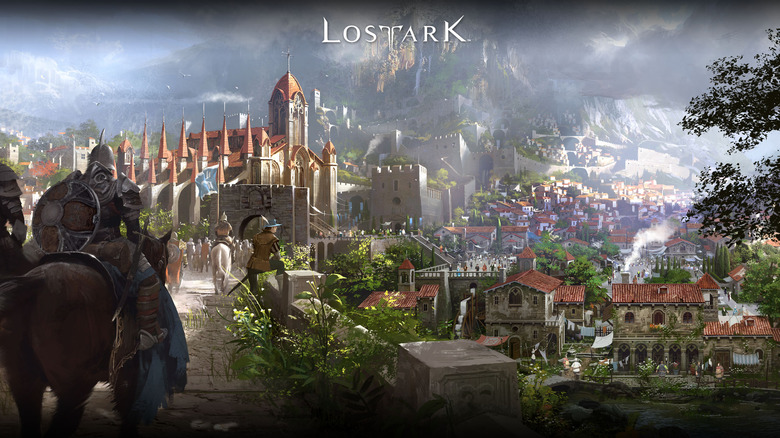 Smilegate
Lost Ark Online is a Korean MMORPG from developer Smilegate. Its main draw comes from the level of customization that the game will afford: seven classes, each with multiple subclasses, meaning there will be close to twenty available options for characters to start from. In addition, each character can be further customized with an emphasis in certain elements. These elements will change the effects of that character's skills: for example, a Devil Hunter who has focused on the lightning element will see much different skill behavior than one who has focused on ice elements.
Players will also have customizable ships with which to explore the world, and can participate in dungeon raids, quest with friends, or enter a player arena for some PvP battles. It sounds like Lost Ark Online has something for everyone, and it looks really pretty while it's doing it. Unfortunately, for the time being it is only available to those living in Korea. Steparu reports that developer Smilegate aims to bring Lost Ark Online worldwide "once it is ready."
Fortnite: Save The World is the part of Fortnite you still need to try
As we already mentioned, and sites like PCGamesN also have reported, Fortnite: Battle Royale is one of the biggest games in the world. Although the Battle Royale mode is free-to-play, there is actually an entirely different way to play Fortnite: a PvE mode called Save the World.
In fact, Save the World was the original conception of Fortnite, releasing on July 25, 2017, while the Battle Royale mode was not released until September 26. Fortnite: Save the World is a PvE tower defense game that utilizes the same irreverent sense of humor and cartoonish look of the Battle Royale mode, but tasking the player with defending their fortresses against hordes of AI-controlled enemies. It contains weapons, characters and options that are unavailable in the PvP Battle Royale mode. Fortnite: Save the World is available to play right now, but for a cost; it is available when you load up Fortnite. However, Epic Games has said that they plan to release Save the World for free at some point in 2018.