Dragon Ball Z: Budokai Tenkaichi 4 Finally Announced 16 Years After The Last Game
The "Dragon Ball Z: Budokai Tenkaichi" series has been resurrected. During the "Dragon Ball FighterZ" World Tour finals on Sunday, March 5, fans of the franchise were treated to a teaser trailer for the next game in the "Budokai Tenkaichi" series. It will be its first game since 2007's "Budokai Tenkaichi 3," widely regarded as one of the best "Dragon Ball Z" games.
Advertisement
The trailer begins with a shot of an old TV showing gameplay from the last "Tenkaichi." Suddenly, it transitions to a shot of Goku powering up in what appears to be footage of the newest game. He then transitions to Super Saiyan Blue, and text appears that reads "A New Budokai Tenkaichi Begins."
The immediate response on social was overwhelmingly positive. Many users cited a hit of nostalgia just from seeing the words "Budokai Tenkaichi," including one that said "My PS2 days will be relived." Others even expressed relief that it wasn't another game from the "Dragon Ball Xenoverse" series. One user simply exclaimed "Are we finally free from Xenoverse 2," in reference to the 2016 game. The consensus appears to be that despite the warm reception of the "Xenoverse" series initially – and the stellar "Dragon Ball FighterZ" raising the bar for "Dragon Ball" games in general – the magic of the older titles was sorely missed.
Advertisement
Budokai Tenkaichi 3 has garnered a cult following for a reason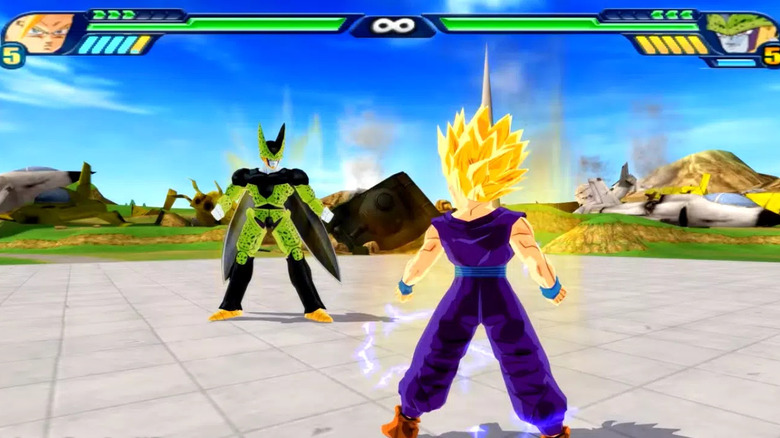 Bandai Namco
One of the highlights of "Budokai Tenkaichi 3" is its large library of characters to choose from. Just about everyone of note from the "Dragon Ball Z" franchise makes an appearance in the game for a grand total of 162 playable characters. Additionally, players can choose from a number of different sagas to play through in its story mode. From the Cell Saga to "Dragon Ball GT" – and even stories from the movies – the game lets the player experience just about any moment they can think of. There's even the "What If Saga," which offers alternate histories to play through.
Advertisement
"Budokai Tenkaichi 3" also introduced mid-fight cutscenes to the story mode. While previous games would have scenes before and after fights, "Tenkaichi 3" would often interrupt fights with dialogue to give them more of a narrative flare. Hardcore fans committed to staying faithful to the source material would even be rewarded with one-hit kills by using the same special attacks on their opponents that were used in the shows.
It's unknown when the next "Budokai Tenkaichi" game will release or what it will even be called. The fact that Bandia Namco is bringing back the "Tenkaichi" name as opposed to making another "Xenoverse" game, however, should indicate that the studio is aiming to recapture the franchise's most beloved years in gaming.
Advertisement