Resident Evil 4: Chainsaw Demo - How To Download And What To Expect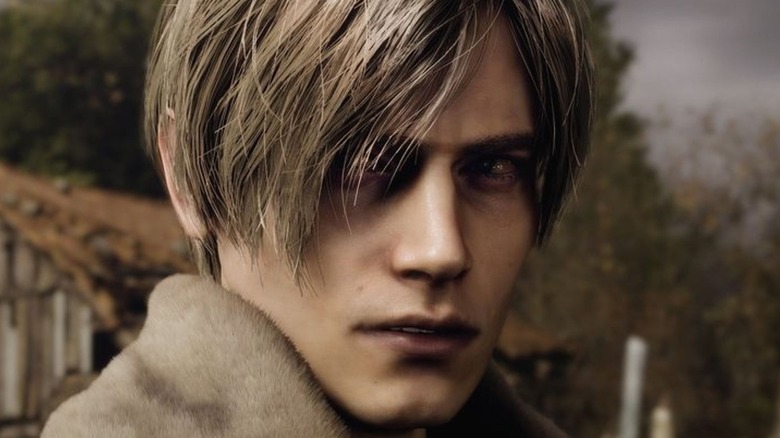 Capcom
To say that "Resident Evil" fans are hyped for the upcoming "Resident Evil 4" remake would be an understatement. Capcom's big zombie-blasting release for 2023 reimagines one of the most beloved action-horror games of all time, not to mention the title that fully revitalized the "Resident Evil" franchise. Early gameplay previews have shown a great deal of promise, but gamers have been chomping at the bit to play the game for themselves. Luckily for them, Capcom has obliged that desire by releasing a hefty demo ahead of the full game's release.
Twitch ads actually leaked the existence of the demo earlier in the day on March 9, spoiling what was meant to be a big surprise during Capcom's latest livestream presentation. Even with the reveal having been blown, the excitement for the demo has not been dampened. Read on to learn where you can download the demo for "Resident Evil 4," as well as what to expect from this first gory taste.
Resident Evil 4: Chainsaw Demo revealed
The new demo is appropriately titled "Resident Evil 4: Chainsaw Demo," after the deadly weapon wielded by the mad Dr. Salvador, better known as the guy who routinely kills Leon Kennedy with a chainsaw. The demo picks up early into the game's campaign, and players can complete it at their own leisure, free of a time limit. And thank goodness, too: It looks like the demo will pit players against some of the most harrowing sections of the game's first act, including the first massive swarm of infected villagers. Preview footage for the demo shows Leon in dire straits, fending off a pitchfork-wielding attacker with his trusty knife and sidearm.
The demo can be downloaded for PlayStation 4, PlayStation 5, and Xbox Series X|S from their respective digital storefronts. It is also playable on PC via Steam. Gamers can replay the demo more than once, which should help to sharpen their skills for when the full game launches on March 24.