Love Is Blind Contestant Goes Viral For Elden Ring Baby Names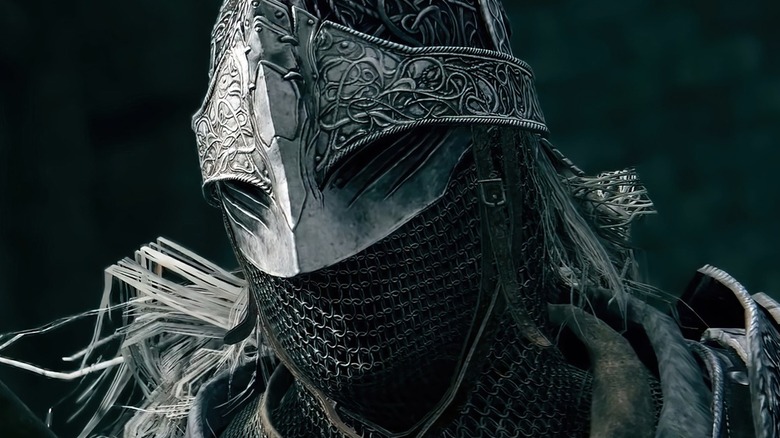 Bandai Namco
One of the primary draws to "Love is Blind" is the whirlwind nature of the dating show's romances. The contestants have a short period of time to fall in love — sight unseen — with their future partner, then the real test begins as they head to a resort and learn if they can really cohabitate. Some couples don't last till the end of a season, while others discover that they had even more in common than they previously thought. One couple on the latest season quickly got to the stage of the relationship where they began picking out names for their future kids — and one of them immediately blew his cover as a massive "Elden Ring" fan.
In a clip that has quickly gone viral on Twitter, contestants Zack and Irina are discussing the topic of baby names over dinner by the sea. Zack hopefully suggests "Godfrey" and "Godric" as potential names, which Irina reacts to with disgust. Zack then likewise balks at Irina's idea of naming their kid "Zion." 
WHOS GONNA TELL THIS GIRL HER HUSBAND WANTS TO NAME THEIR KIDS AFTER ELDEN RING BOSSES LOOOOOOOOOOOOL pic.twitter.com/4z16smrAXp

— parky (@parkenharbor) March 26, 2023
Although the couple doesn't immediately see eye to eye on this subject, a great number of Netflix viewers immediately saw what Zack was driving at.
Elden Ring baby names are sweeping the nation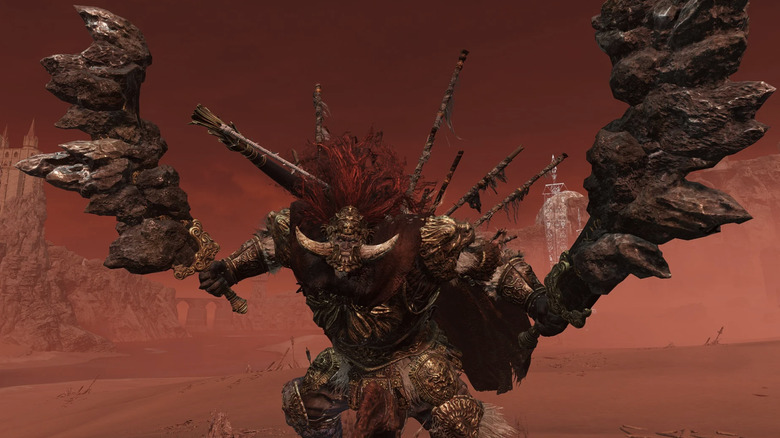 Bandai Namco
Mild spoilers ahead for Season 4, Episode 5 of "Love is Blind."
The surprising cross-section of "Love is Blind" viewers and "Elden Ring" players have had a field day with this clip. Within hours, thousands of people had shared the snippet, pointing out that Zack was apparently trying to subtly suggest naming his kids after a couple of brutal "Elden Ring" bosses. Others are enjoying recommending other "Elden Ring" boss namesakes:
My son General Starscourge Radahn pulling up to preschool day 1 pic.twitter.com/HzVDyQIoGX

— Koala in Disguise (@KoalaMan104) March 26, 2023
Some of the other baby names suggested in the replies and retweets include Ranni, Morgott, and (the unfortunate and hilarious) Dung Eater. Other viewers pointed out that this is not the first time "Love is Blind" has managed to be reminiscent of a FromSoftware game. 
Why is there so much overlap 😭 https://t.co/uE4DASQIgr

— Celeastia🌜 (@celeastia_) March 26, 2023
It remains to be seen if more video game parallels will pop up in the fourth season of "Love is Blind," but we're less than halfway through the season. Each year of the show is filled plenty of with twists, turns, and cringe-worthy moments, so who knows? Although Zack and Irina broke up at the end of episode 5, there's still a chance that another couple on the show will settle on a cool name for their future babies — even if it doesn't come from "Elden Ring." May we suggest Sword Saint Isshin as a strong name?