The Lyrics To God Of War's Theme Music Are Sadder Than Fans Realized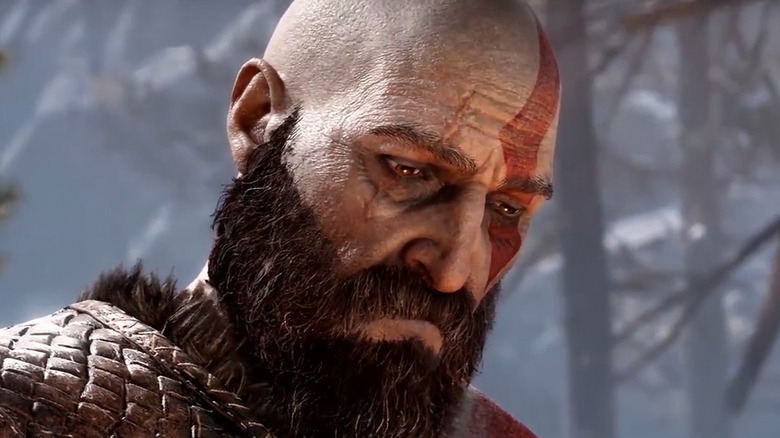 Sony Interactive Entertainment
The "God of War" franchise has changed quite a bit over the years. Going from a series that basked in hyper-violence and adult content to one focused on redemption and the strength of family has not been a straight line, but Kratos' story has benefitted from the evolution. The most recent entries in the series – 2018's "God of War" and 2022's "God of War Ragnarok" – have embraced a more mature tone, which has extended to all aspects of production. Not only has Christopher Judge's award-winning take on the lead character touched audience's hearts, but the soundtracks of both games have been lauded for their complexity and resonance in some of the games' more emotional moments.
Series composer Bear McCreary has made a name for himself with his compelling scores for television series like "The Walking Dead" and "The Lord of the Rings: The Rings of Power," as well as movies like "Godzilla: King of the Monsters." When approaching the music for "God of War," McCreary was drawn to the tragic aspects of Kratos and his quest. In fact, the composer has opened up a bit about his songwriting process, revealing that the Norse lyrics for the main "God of War" theme are much more mournful than fans might expect. 
God of War's theme songs embrace the tragedy of Kratos and Atreus
As McCreary explains in an insightful blog post, some of the game's fans have attempted to translate the main themes for his "God of War" games, but missed a few of the lyrics' nuances. With that in mind, McCreary decided it was time to share the proper translation of the tracks' Norse chants. 
Both games begin with lyrics that translate to "Exiled God/Father's shame/Mother's hope/Child in pain," perfectly describing the point at which we join Kratos and Atreus. The first game's lyrics continue on with references to how broken both of them feel after the loss of Faye, Kratos' wife and Atreus' mother. It also foreshadows the eventual rift between Kratos and his son with one line in particular: "He's in pain/He needs a father not a god."
The second game's lyrics continue on from the similar opening lines to warn of the coming apocalypse, but the words also lean heavily into Kratos' path to redemption. Throughout "Ragnarok," Kratos struggles with leaving his violent ways behind. The lyrics reflect this, noting, "Letting go/Takes great strength."
With both versions of the "God of War" main theme, Bear McCreary finds a way to set the scene and nod at the journey ahead. Without these translations, fans may not even realize the extent to which these lyrics touch on every aspect of the plot, nor how sorrowful these epic themes truly are.