Peaches: Mario Movie Fans Can't Get Enough Of Bowser's Extravagant Love Song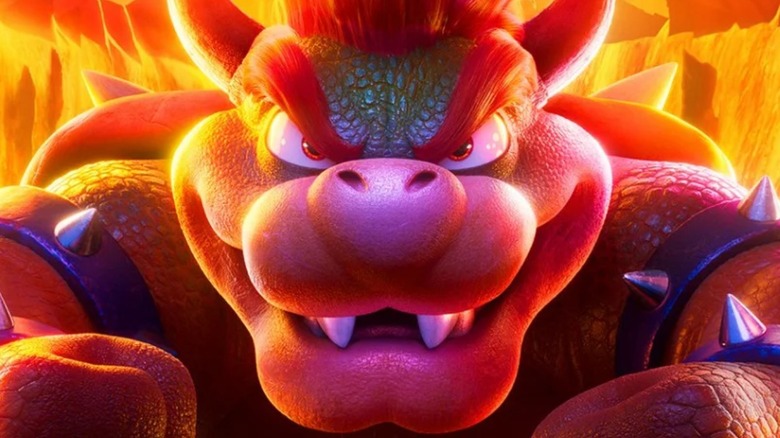 Universal Pictures
By now, everyone knows how much we love "The Super Mario Bros. Movie." After a successful opening weekend, the film gave dedicated fans another present: a full-blown single of its breakout song, "Peaches." In the movie, Bowser (played by Jack Black) writes a serenade for his love, Princess Peach, loosely describing his plan to defeat Mario and win her over. In the real world, "Peaches" quickly began climbing the charts, rising to number 7 on iTunes. Its popularity even warranted a music video, starring Jack Black in a shiny green suit and Bowser-themed hat, belting his heart out and dancing around a minimalistic pink room.
Created by music video mastermind Cole Bennett (in conjunction with his company Lyrical Lemonade), the video quickly overtook the internet. In a behind the scenes interview, Bennett explained that his original concept for the video involved Bowser in a lush backyard, serenading a literal peach. However, the set ended up being much more subdued. That pink color covering the walls, floor, and furniture? Bennett explained it's actually peach.
Everything about Black's surroundings screams Peach, emphasizing his feelings for his one true love. Bennett explained that even though his original idea for the video didn't pan out, Black's performance gave him everything he needed. "The thing about Jack Black ... he just gives you so much in his face, so animated, so fun," Bennett said. In other words, the video didn't need elaborate set pieces or plot to drive the video – Black's expressive performance conveyed everything. Add in an Elton John-inspired outfit, and the rest is music video history. Thankfully, fans agreed.
And the fans go wild for Peaches
Fans think the "Peaches" video can't be topped. One young viewer said she'd never seen a performance so lovely, while another thanked Black for creating a new earworm. The lilting piano and enthusiastic performance make the song unforgettable, and the simplicity of the chorus only adds to its tendency to stick around in listeners' ears. 
My 7yo daughter while watching the music video for Peaches by @jackblack...

'oh my God it's so beautiful I could cry'#MarioBrosMovie

— Random Dude (@Random_Patterns) April 10, 2023
Other gamers quickly saw an opportunity to make memes, with one comparing Black's peach throw to a Pokémon trainer throwing a Pokéball at a rare pocket monster.
akari throwing balms at the hisuian noble pokemon: pic.twitter.com/9iYWmhnABB

— carmen ᱬ | AKARI IS DAWN (@carmencaraamel) April 10, 2023
It's clear to see why gamers love "Peaches," too. Aside from the lovingly shot music video, the song's catchiness can't be ignored. Only adults might catch the emotional vulnerability Bowser shares during "The Super Mario Bros." movie — and especially during "Peaches" — but fans of all ages can still enjoy singing an epic ballad to Princess Peach. Bowser might love his Peaches, but it's clear that fans love his ballad even more.