Markiplier Finally Reveals Iron Lung, His Terrifying New Movie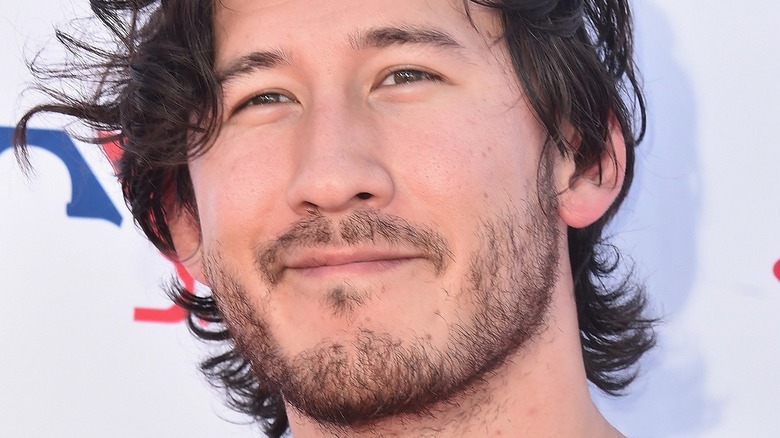 Alberto E. Rodriguez/Getty Images
After teasing fans earlier this week with movie news, Markiplier has finally revealed the first major details about his next movie project. As announced exclusively by Deadline, the YouTube star is writing, directing, and starring in a feature film adaptation of "Iron Lung," the atmospheric horror game from indie developer David Szymanski. Though precise details regarding the movie's plot have not been revealed, it can be assumed to follow a similar set-up to the game, which involves (what else?) a lone submarine making its way through an ocean of blood after an unexplained event has decimated the universe outside.
"Iron Lung" definitely made an impression on audiences as a hidden indie gem in 2022. It quickly became one of Markiplier's obsessions upon its release, with the YouTuber even posting lengthy deep dives into the game's obscure lore. Given his interest in unraveling the game's story, Markiplier seems like the perfect person to bring this unsettling experience to the silver screen. It seems he's already been hard at work on the film, considering he recently told fans about the strenuous stunt work he's been doing on the movie. 
Markiplier's Iron Lung teaser is dread-inducing
The teaser trailer for "Iron Lung" should look pretty familiar to fans of the original game, as it appears to have been animated with the same engine. The teaser opens on a shot of the mini-sub in which the entire game takes place. As a crackling voice comes in over a radio to describe the status of the submarine's descent, the camera begins to slowly tilt to the side, eventually revealing a lonely console and a title card before the friendly voice is lost.
It's a short but effective taste of the tone of the original game, so gamers can probably rest assured that Markiplier is striving to capture that oppressive feeling with his adaptation. Lending the project an even greater air of authenticity, developer David Szymanski has revealed via Twitter that he's been working on the film with Markiplier, and will even play a character in it.
So yes, tl;dr the reason I've been so busy lately is because I've been heavily involved with production of the Iron Lung movie, from assisting with the script and pre-production to now being on set for the shoot and even having a small cameo in the film!

— David Szymanski (@DUSKdev) April 21, 2023
Szymanski added, "I couldn't be happier with how it's turning out so far. This is going to be something very special, and very wild." If you haven't yet played "Iron Lung" and want to see what all the fuss is about before the movie arrives, Szymanski has also announced that it's currently on sale.