Why Zelda: Tears Of The Kingdom Was Delayed An Extra Year (Despite Being Done)
Nintendo
If there's ever been a sequel that was worth the wait and lived up to the hype (and then some), it's "The Legend of Zelda: Tears of the Kingdom." The follow-up to "Breath or the Wild" has taken what worked in the previous installment and improved on it in many cases, expanding upon that game's open world mechanics and presenting players with an endlessly inventive journey. The depth of the new title's gameplay and physics engine has veteran game developers calling "Tears of the Kingdom" a miracle of a game, a feat that feels almost impossible. What players might not know, however, is that the game was essentially complete for over a year before it was released.
According to a new interview with longtime "Zelda" series producer Eiji Aonuma, the team behind "Tears of the Kingdom" had just about finished building the game prior to the last delay announcement. This may come as a shock to fans who had to wait even longer to get the game in their hands, but the delay was actually decided upon for a very good reason.
Aonuma explains Tears of the Kingdom's delay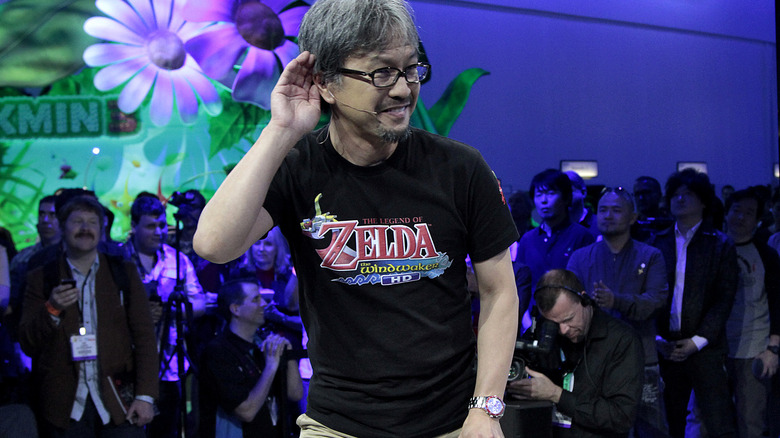 Bloomberg/Getty Images
When Eiji Aonuma announced in March 2022 that the game would be delayed into the next year, Aonuma explained to The Washington Post's Gene Park, it was to "make sure that everything in the game was 100 percent to our standards." Park further explained on Twitter that the extra year gave the developers ample time to perfect the game's physics engine, which allows for Link (and players) to create all kinds of wild contraptions with the flick of the wrist.
Eiji Aonuma said when he announced in March 2022 a delay for Zelda Tears of the Kingdom, the game was pretty much complete.

The last year was spent on polish, making sure the wild physics of the game just work. https://t.co/jb2qlonWsO

— Gene Park (@GenePark) May 21, 2023
However, Aonuma also explained that the final year of promotion for the game also introduced new problems. The most pressing of these was apparently his realization that fans weren't totally sold on what kind of game "Tears of the Kingdom" would be, or how it would differentiate itself from "Breath of the Wild." He explained, "People had not gotten their heads around the gameplay elements or where the fun might be." To combat this, Aonuma hosted a lengthy gameplay demonstration to give fans a sneak peek at Link's powers. 
That demo and the extra time in the oven certainly paid off for Nintendo, as "Tears of the Kingdom" has been raking in rave reviews from fans and critics alike. Aside from a pesky duplication glitch, the game has been seen as pretty much perfect.