The Barbie Game That Obliterated Doom In The '90s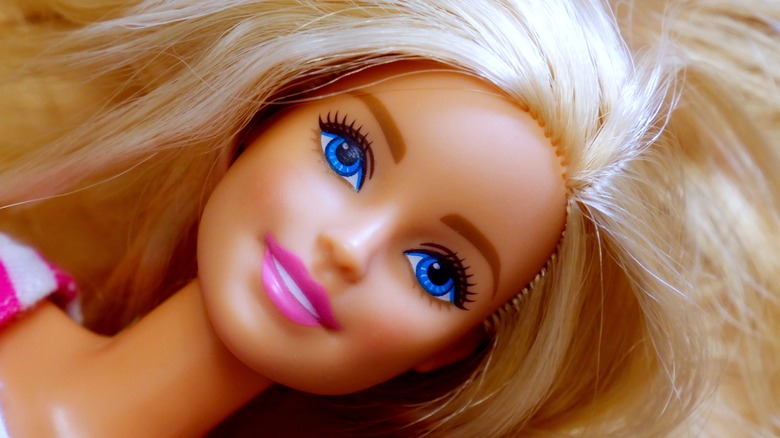 DAndreev/Shutterstock
Barbie never really left, but it's also safe to say that she is back in a major way. Greta Gerwig's highly anticipated "Barbie" movie has just opened in theaters nationwide, where it's charming the socks off of critics and audiences alike. Reviews of the film have been glowing, and it's not difficult to imagine this being the first film of a wider franchise. After all, Barbie can do anything, from space travel to teaching to even starring in her own video games. And believe it or not, one of Barbie's appearances in the gaming market actually outsold one of the industry's biggest franchises in the 1990s: "Doom."
Advertisement
"Doom" likely requires very little introduction. Self-published by id Software in 1993, "Doom" revolutionized the first-person shooter genre, delivering a blistering soundtrack, goopy gore, and a spooky (for 1993) atmosphere to bolster all the demon-blasting fun. As fans got their hands on the shareware title, "Doom" also essentially birthed the video game modding community as we know it now, raising the title's profile and selling millions of copies before the end of the decade. In 1996, however, "Doom" was apparently outsold by a little title called "Barbie Fashion Designer."
The first iteration of "Doom" may have had legions of metalheads and hardcore gamers sharing its code and mining its secrets, but "Barbie Fashion Designer" was certainly no slouch in the promotional department. In addition to the star power of its plastic leading lady, "Barbie Fashion Designer" also promised to cater to a deprived section of the gaming market and ran an ad campaign that starred a young Mila Kunis. 
Advertisement
Barbie Fashion Designer had star power and a cool concept
Yes, you read that right. In one of her early roles, "That '70s Show" and "Forgetting Sarah Marshall" star Mila Kunis appeared in a commercial for "Barbie Fashion Designer." This makes a lot of sense, as Kunis appeared in other Barbie-related ads early in her career, as well as in commercials for Lisa Frank products. You'd assume it can't get much more 90s than that, but let's talk about this CD-ROM game that blew away the competition in 1996.
Advertisement
The commercial might make you think the game features a bit more animation than it actually does, what with the footage of a stop-motion Barbie appearing on the PC screen. The actual game is more like an interactive paper doll, allowing kids to design and dress their own virtual Barbies. You might also think that the reactions of the kids in the commercial are a little bit over the top, but the excitement was pretty warranted, especially for diehard Barbie fans. Not only could you dream up new looks for Barbie with the tools in "Fashion Designer," but the game also came with a craft kit and paper that allowed players to print out the outfits. That's right; you could actually dress your Barbies up with the costumes you made in the game.
Advertisement
This was a novel idea at the time, particularly for such a beloved toy, and it pushed the CD-ROM title into best seller territory. And it's no wonder why the game did so well: "Barbie Fashion Designer" was actually thought up by E.J. Rifkin, a kid who loved Barbie.
Barbie vs Doom: The original Barbenheimer?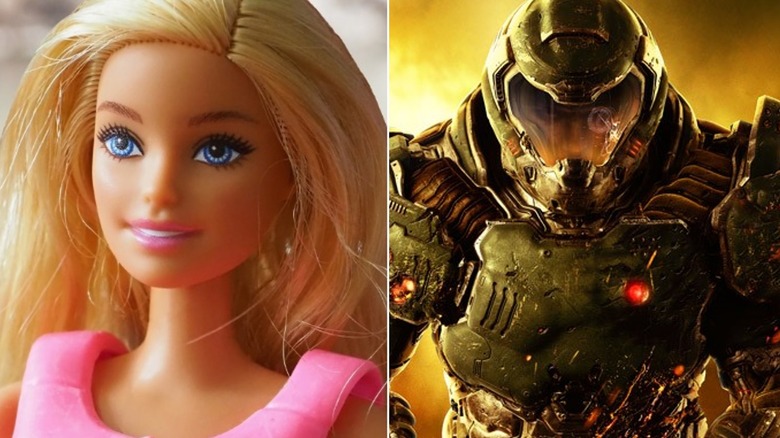 DenizKa/Shutterstock
As Mattel Media co-founder Andy Rifkin explained to Time Extension in 2022: "The idea was that my daughter wanted to make clothes for Barbie on the computer. So I invented this product, I developed it with her, and I took it to Mattel to sell it to them. And they looked at me like I was crazy, but the president was willing to take a chance on it." At the time, Mattel saw a chance to capitalize on the lack of games aimed at young girls. The gamble totally paid off. Rifkin noted, "I think we were [at] like $400 million dollars in two years or three years."
Advertisement
In an article for Harper's Bazaar, writer Mary Kenney — author of "Gamer Girls: 25 Women Who Built the Video Game Industry" — noted that "Barbie Fashion Designer" sold over 500,000 units in its first two weeks of release in 1996. It crushed the sales numbers enjoyed by "Doom," which managed to move about a third of that during the same window of time.
It's worth noting that a great deal of this year's box office discourse has centered around the "Barbenheimer" phenomenon, with movie fans pointing to the oddity of Gerwig's "Barbie" and Christopher Nolan's "Oppenheimer" releasing on the same day. Both films have done rather well in ticket sales thus far, but "Barbie" is projected to come out on top. This somewhat mirrors a similar event in 2020, when "Animal Crossing: New Horizons" and "Doom Eternal" hilariously released on the same day, only for "Animal Crossing" to arguably become the defining game of 2020. 
Advertisement
Looks like Barbie, pastel colors, and good vibes will always be able to hold their own against bleak and fiery competition.