Here's What You'll Find In Destiny 2's Halloween Event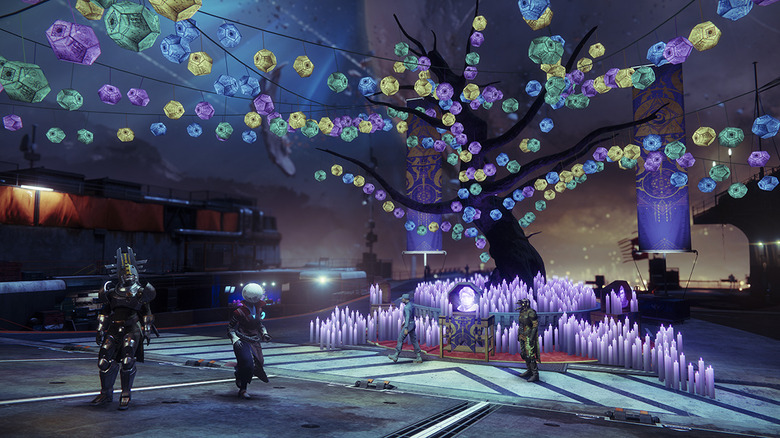 Destiny's Festival of the Lost debuted all the way back in 2015, just a few short months after that game's first major expansion, The Taken King. It's been a fixture ever since, providing Guardians with a Halloween-themed intermission between content expansions — one full of creepy locales, gear, weapons, and of course, Halloween masks.
Advertisement
This year, Festival of the Lost returns with a few more tricks up its sleeve, as detailed by Bungie in a blog post published today.
Of course, Halloween masks are on the menu, as are some spooky Ghost shells, ominous-looking ships and sparrows, and emotes. But the Festival will also introduce a brand new legendary auto rifle, Horror Story, as a reward for completing bounties. And the much-maligned Infinite Forest from last December's Curse of Osiris DLC is also being repurposed. In Festival of the Lost, that randomly-generated space will become the Haunted Forest, challenging Guardians to see how far they can progress in 15 minutes. Details on the Haunted Forest are scarce, but from the looks of things, it appears to be the sort of horde-mode-type activity that Destiny fans have been clamoring for.
Advertisement
On top of that, players taking part in the Festival will be treated to a murder mystery. Master Ives, the Reef's cryptarch in the original Destiny, has been "struck down," according to Bungie, and Guardians will be tasked with the responsibility of uncovering the killer's identity and exacting revenge. Though, to be honest, Master Ives was kind of a jerk. Some Guardians might be fine letting that one slide. Or they can solve the murder, if they must — and if loot is involved.
Destiny 2's Festival of the Lost event is set to kick off on Tuesday, Oct. 16, with the Master Ives murder quest opening up on Tuesday, Oct. 30. The Festival as a whole wraps up on Nov. 6, leaving around a month until Destiny 2's next DLC, Black Armory, which is expected to launch sometime in early December.