Transformers Fans React To Activision Losing Several Classic Games
Update 8/2/2023: Hasbro has retracted its claims that Activision lost the code to its popular "Transformers" video games. In a statement given to VGC, Hasbro said, "To clarify, comments that suggest Transformers games have been lost were made in error. We apologise to Activision and regret any confusion – they've been great partners, and we look forward to future opportunities to work together." Our original article follows.
Between 1986 and 2015, Activision published nearly a dozen video games based on the "Transformers" franchise. Many of these titles, particularly during the PS3 era, were well received by fans. When the company's right to the license expired, however, these titles were delisted from digital platforms, leaving fans hungry for more — or at least a fancy remaster of some kind. Now we've learned that this may never come to pass.
During this year's San Diego Comic Con, fan site Transformers World 2005 spoke with Hasbro reps about the company's exciting Gamer Edition line of action figures. The figures, which are based on designs from various "Transformers" video games, began hitting store shelves in May, prompting fans to wonder if reissues were finally on the way for the games that inspired them. As it turns out, Activision may have actually lost these games entirely.
According to Hasbro's rep, Activision's many mergers and moves over the years may have made it impossible to reissue fan favorite titles like "Transformers: Fall of Cybertron" or "Transformers: Rise of the Dark Spark." "Sadly, apparently Activision's not sure what hard drives they're on in their building," Hasbro explained in the chat with Transformers World 2005. "When a company eats a company that eats a company things get lost, and that's very frustrating."
What does this mean for remasters of Transformers games?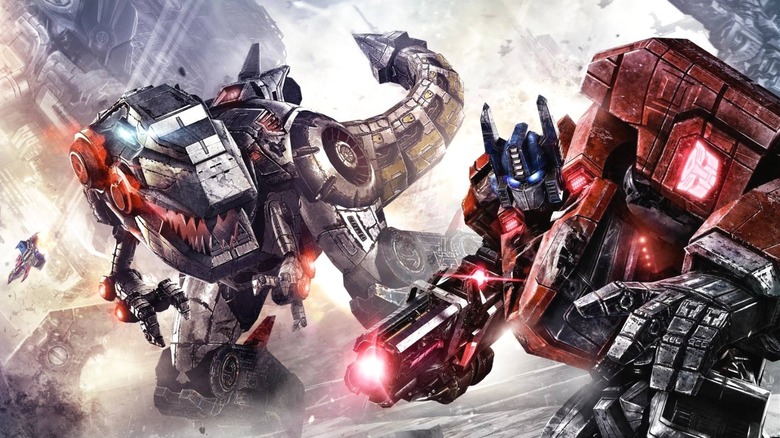 Hasbro revealed that the company had to boot up the classic "Transformers" games on older hardware in order to draft their figure designs, but the work paid off. The Gamer Edition figures have been a hit with fans, and the toy-making giant is already planning future figures for the line. Hasbro also explained in the interview that fans shouldn't give up hope entirely, and that there's a chance that Activision Blizzard's purchase by Microsoft may somehow bring these lost games to light. "Hope is that now that the deal is moving forward with Microsoft and Xbox that they'll go through all of the archives and every hard drive to find it all, because it's an easy Game Pass add," said the Hasbro rep. "We want those games back up for people to have a chance to play."
Judging by the reaction on social media, fans also desperately want to once again play these older "Transformers" titles. Many have expressed incredulity at the idea that these beloved games have been misplaced, while others hold out hope that the code will indeed be found. Some fans are already vowing to pay any price for a remaster if one should ever surface. Naturally, others are coping with the loss of "War for Cybertron" and its brethren by posting memes about the situation.
Activision: We lost the hard drives that contained the original files for WFC and FOC

Transformers Fans: pic.twitter.com/YwoDjKChQT

— Sheldon (@SpiderFan1998) July 30, 2023
Activision has yet to release a statement on the matter, but unless there's more to this story than meets the eye (get it?), hardcore "Transformers" fans may have to make do with the original releases of these missing games.