Horror Games That Will Blow You Away In 2019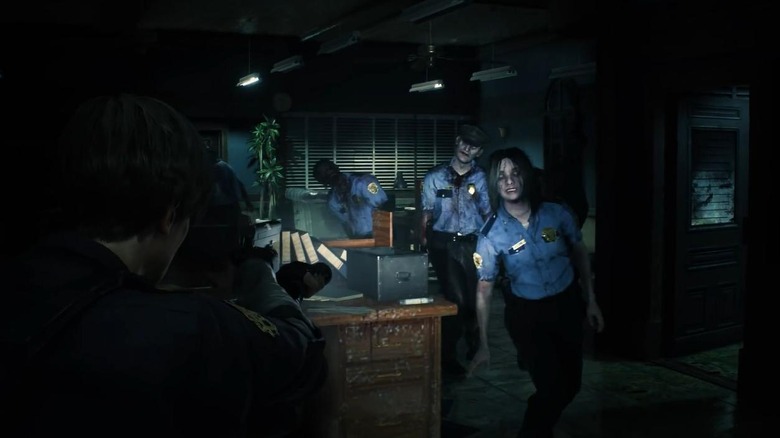 2018 has been surprisingly light on horror games. Noteworthy titles like State of Decay 2 and We Happy Few have come and gone, and there are few horror titles closing out the year. Call of Cthulhu, a game based on the writings of H.P. Lovecraft, and Overkill's The Walking Dead, inspired by the comics written by Robert Kirkman and drawn by Charlie Adlard, will round out 2018 with what will hopefully be tons of gruesome deaths.
Advertisement
But, while 2018 hasn't quite scared us away from our controllers, 2019 is jam-packed with horror games that promise to do just that. From zombie classics resurrected onto modern consoles, to brand-new franchises ready to invade your darkened home, the terror will start in January and run right through the rest of the year.
Follow us down the dark, creaking corridor that is 2019 to find out why it may be the very best year for video game horror ever!
Resident Evil 2 is back from the dead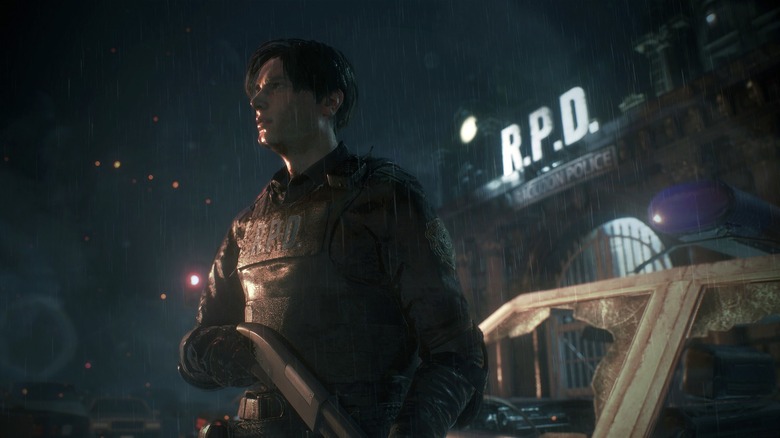 Resident Evil is one of the few classic survival horror series that still enjoys new installments and remakes today. While franchises like Silent Hill, Alone in the Dark, and Fatal Frame have slowly faded away into irrelevance (this makes us very sad), Resident Evil remains one of Capcom's big franchises 22 years after the release of the original game for the PlayStation. After releasing remastered editions of both Resident Evil and Resident Evil Zero, Capcom has finally turned its attention to the excellent Resident Evil 2.
Advertisement
2019's Resident Evil 2 is a complete remake of the original that re-imagines the zombie outbreak that terrorized Raccoon City as well as protagonists Leon S. Kennedy and Claire Redfield. While the twisty story you know and love is still in place, Capcom has made several major tweaks to the experience that make it feel like a whole new game. On top of the obvious graphical updates (this game looks stellar), Capcom has also replaced the original's fixed camera perspective to a more modern over-the-shoulder perspective. Fans should expect a very different experience this time around.
Resident Evil 2 is out on Jan. 25, 2019.
Metro Exodus leaves the tunnels behind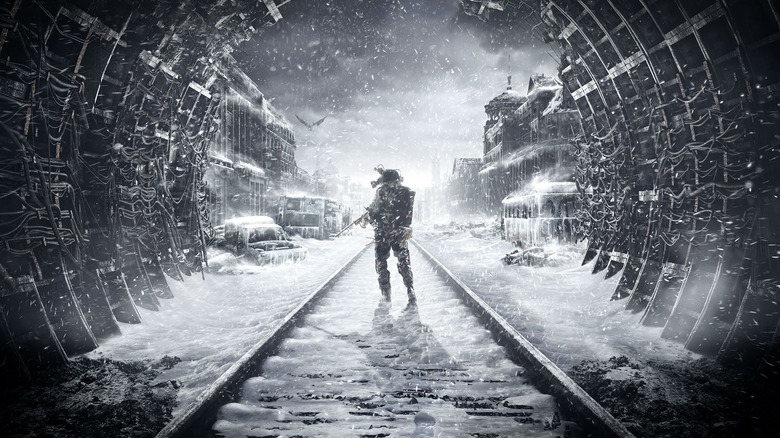 Set two years after the events of the last game, Metro Exodus returns players to the Russian wasteland in the aftermath of a war that has left the world in an eternal nuclear winter. After adventuring through the ghost- and Dark One-filled tunnels of the Russian metro system, protagonist Artyom has finally left for the surface, on a journey with his fellow Rangers to reach the far east in hope of a new life with his wife, Anna. But along the way, he'll face plenty of dangers.
Advertisement
Plenty of terrors await Artyom on his journey, including flesh-hungry mutants, wolves and other wildlife, and even a strange cult of murderous maniacs. From the looks of the Gamescom trailer, Artyom won't want to get caught out in the open at night. There are plenty of things waiting to eat him in those dead woods. The fact that you'll have to get through with limited supplies and ammo will definitely get your blood pumping.
Look for the game on Feb. 22, 2019.
Days Gone will keep you on the run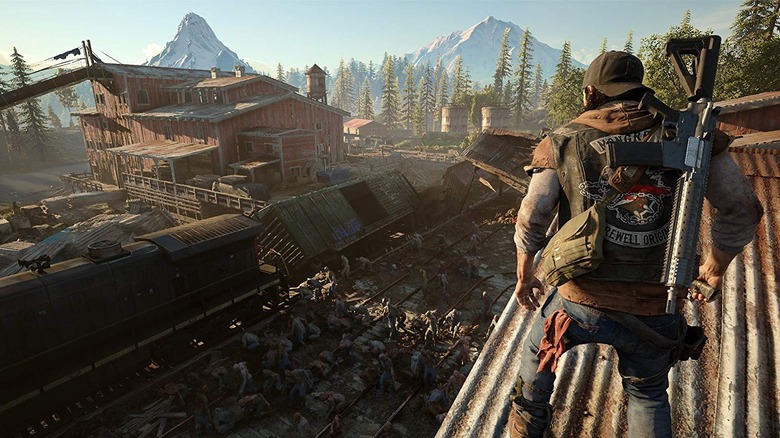 Bend Studio's biker drama, Days Gone, is more than meets the eye. Set in the post-apocalyptic Pacific Northwest region of the United States, the game takes place on a ravaged version of our homeland after the outbreak of a virus that turns most humans into deadly, zombie-like creatures known as "Freakers." These aren't your standard, hobbling undead, though. Freakers are fast and often attack in massive hordes, which means that, more often than not, you'll be on the defensive ... or running for your life!
Advertisement
You play as Deacon St. John, a bounty hunter making his way through the Freaker-filled wilderness "searching for a reason to live," according to Sony. He'll have to scavenge, sneak through dangerous areas, and face both friend and foe in order to survive the new world.
The horde mechanics are impressive, as hundreds of Freakers can charge while Deacon desperately tries to survive the onslaught. You'll have to use every trick in the book — remote bombs, trip mines, lots of guns, and even your motorcycle to dispose of the undead threat.
Days Gone is out on Feb. 22, 2019.
The Sinking City will drive you mad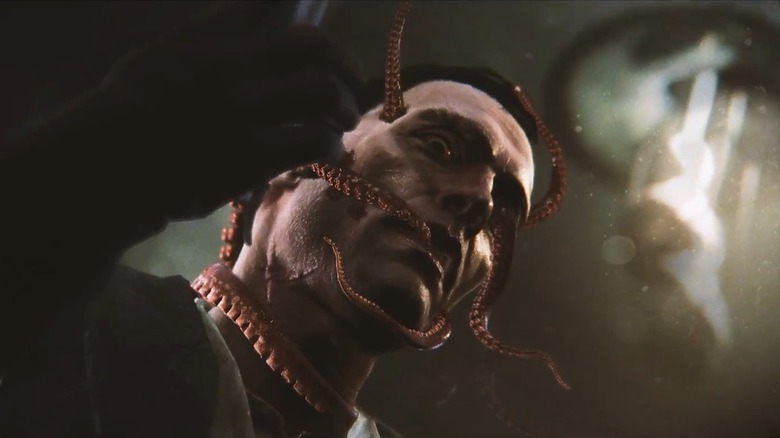 The Sinking City is another horror game based on the work of H.P. Lovecraft, specifically his Cthulhu mythos, which feature lots of strange sea creatures with tentacles as well as gods that can drive you mad with the mere sight of them. Sounds lovely, doesn't it?
Advertisement
The game, which is being developed by Frogwares, the studio behind the excellent Sherlock Holmes PC series, explores the fictional city of Oakmont, Massachusetts. After being engulfed by a freak flood, the town has been taken over by an otherworldly realm of monsters. You play as a private investigator, who shows up in the city after flood and finds that nothing is what it seems in Oakmont, place of strange rituals and questionable religions.
The Sinking City's open-world setting looks most impressive, as your character uses boats to traverse the flooded city, braving the mysterious sea creatures that await him in the water below. Don't expect the game's P.I. to be a tank, either. Frogwares says that going in guns blazing isn't always the best idea.
Advertisement
"Just remember, more often than not, our investigator is weaker than the enemy. And witnessing supernatural beings or distressing occurrences can easily trigger madness."
You've been warned.
The Sinking City is out on March 21, 2019.
Luigi's Mansion 3 wraps scares in a colorful package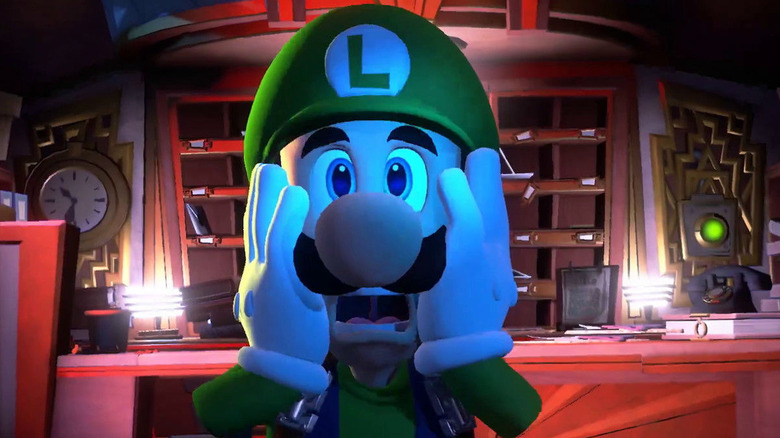 News of Luigi's death at the hands of Castlevania's Grim Reaper has been largely exaggerated. Mario's younger, but taller brother is so alive, in fact, that he's about to star in an all-new ghost-hunting adventure. That's right, Luigi is donning his handy flashlight and the Poltergust vacuum once again to capture the creepy ghosts in the long-awaited Luigi's Mansion 3.
Advertisement
This time around, Luigi has a few new tricks up his sleeve. His new and improved Poltergust allows him to shoot plungers at his enemies. His advanced Strobulb light from Luigi's Mansion: Dark Moon also makes a return in this installment.
Just because this is a Nintendo game, don't underestimate Luigi's Mansion 3 as the least scary of this list. There have been moments in the first two games that have been downright spooky. Pray that Luigi fares a bit better in his new game than he did against the ruthless Grim Reaper — for both your sakes.
World War Z is a movie tie-in without the movie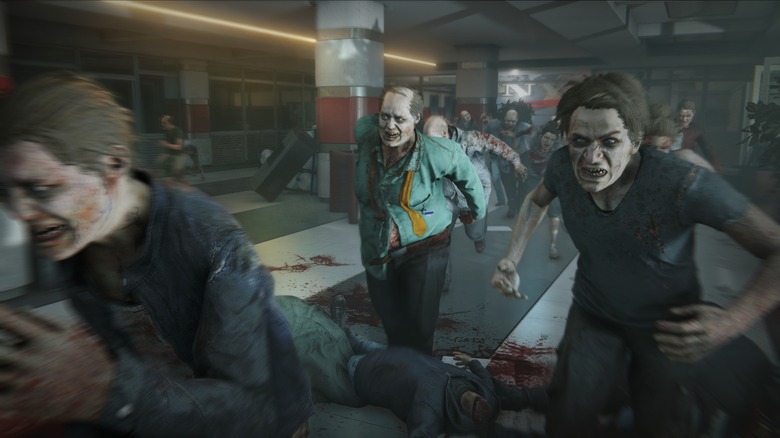 2019 is going to have its fair share of zombies. Saber Interactive, most recently known for its NBA Playgrounds series but also a bit of Halo work, is currently developing a game set in the World War Z universe. While Saber's World War Z isn't based directly on the popular book by Max Brooks but on the tepidly-received Brad Pitt movie from 2013, it explores this story of a zombie apocalypse from an entirely different angle, with new characters and situations.
Advertisement
World War Z's biggest influence is definitely Left 4 Dead, Valve's cooperative team-based shooter in which four survivors have to work together to escape a zombie-filled location. There are three campaign scenarios to choose from, each set in a different place around the world, and you choose one of four characters to blast away zombies with your friends. There are 12 characters in all.
This nostalgic take on team-based zombie shooting looks delightful, as well as hectic, fast-paced, and spooky at times.
Dying Light 2 opens its narrative up to you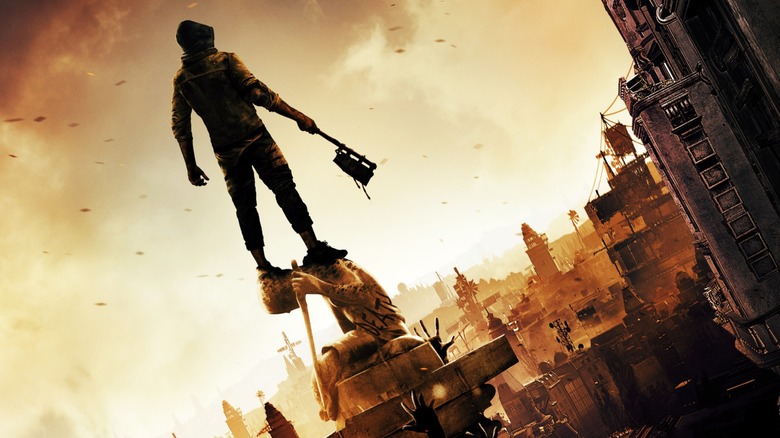 Rounding out next year's zombie offerings is Dying Light 2, a follow-up to Techland's massive hit, the story of a special agent who infiltrates a quarantined city in order to take down a warlord and is unbelievably good at parkour. This time around, the game take place in a whole new city and zombie mechanics work a little differently. Instead of two different types of zombies depending on the time of day, Dying Light 2 will focus in on humans as the real danger during the day while zombies come out to play at night.
Advertisement
Decisions you make in the game will affect how safe or dangerous the world is for your character. That means you'll have to think twice before killing someone or completing a mission for one faction or another. According to veteran video game writer and designer Chris Avellone (Fallout: New Vegas), "Each player's game experience will be unique."
Come for the flesh-eaters, stay for the RPG-like decision-making.
The Dark Pictures Anthology has a lot of different ways to end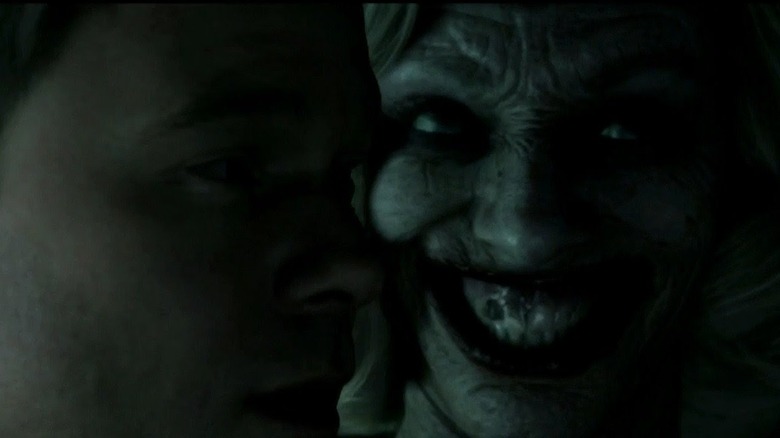 Supermassive Games first turned heads with its horror adventure game, Until Dawn, which tasked you with playing out its twisted version of an '80s slasher film. A mix of exploration and a branching decision system made every playthrough unique, as the choices you made affected the story differently. Until Dawn was scary, gruesome, immersive, and even a little schlocky.
Advertisement
With The Dark Pictures Anthology, Supermassive Games is injecting this playstyle to a whole series of interactive stories. The first installment, Man of Medan, is due next year. It tells the tale of a diving expedition gone terribly wrong and a spooky ghost ship that will become the watery grave for some of the characters, depending on the choices you make.
"There are multiple endings and multiple scenarios based on the decisions you make in the game," Pete Samuels, executive producer at Supermassive Games, said in a blog post.  "Be careful though as all the playable characters can live, and any and all of them can die, depending on the choices you make."
Make sure to bring tissues with you.
Someday You'll Return is all about the story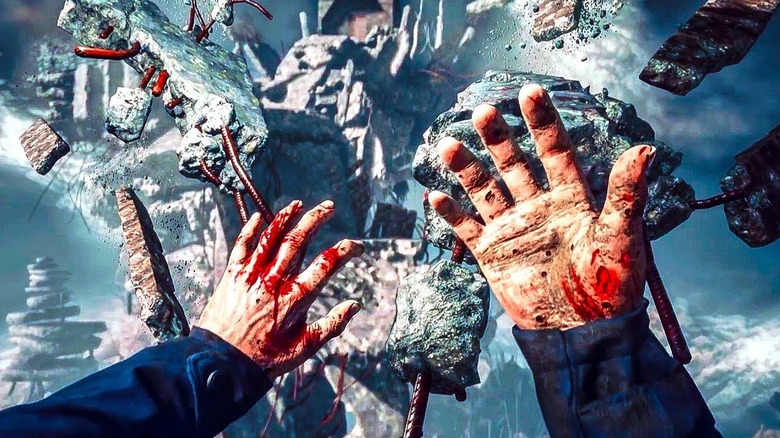 Those who prefer less combat and more story-driven exploration might be interested in Someday You'll Return, the new psychological horror adventure game from CBE Software. The studio is comparing the title to The Vanishing of Ethan Carter, Silent Hill, Outlast 2, Firewatch, and Resident Evil 7, according to Destructoid.
Advertisement
You play as Daniel, who is looking for his daughter, Stella, in the Moravian forests. Along the way, you'll have to revisit secrets about your past and the forests. While there isn't any combat or weapons, you'll be able to craft things to help you on your journey. These tools won't help you against what's waiting for you in the woods, though.
"While your survival skills and quick wits might advance your search, malevolent forces rise up against you," CBE says.
Roaming forests alone is never a good idea.
World of Horror will challenge your sanity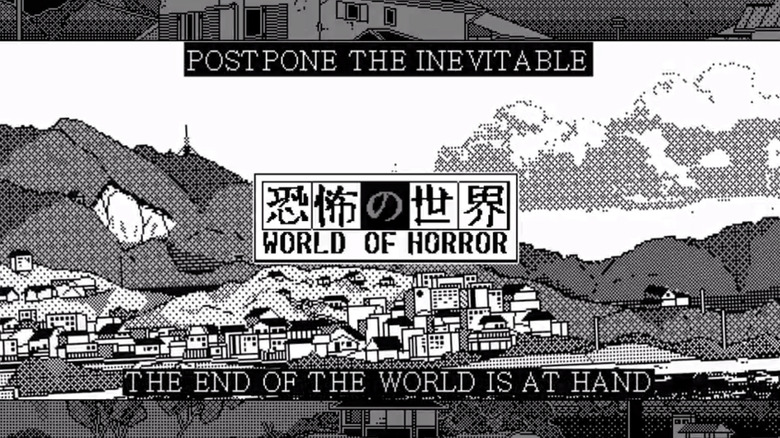 Ever wish that you could play an entire RPG set in Pokemon Red and Blue's very creepy Lavender Town? That's sort of what Panstasz's World of Horror is going for, except this particular Japanese town is haunted by creatures that would make a Ghastly cry.
Advertisement
True to the retro-RPG formula, the game features turn-based combat and branching storylines. There's a bit of puzzle-solving and exploration, too. But with way more monsters, none of them quite as friendly as a Pikachu.
"I set out to create something that illustrates just how vulnerable one's sanity can be," Panstasz founder Pawel Kozminski explained in a press release (via Nintendo Life). "I want World of Horror to haunt players in a way that creates an uncomfortable sense of apprehension, something that slowly builds uneasiness and anxiety through atmosphere and the uncanny."
As you can see from the game's trailer, this won't be your typical RPG experience, and it looks like it has some new tricks up its sleeves in terms of scaring the player. We can't wait!
Advertisement