Days Gone Release Pushed To April 2019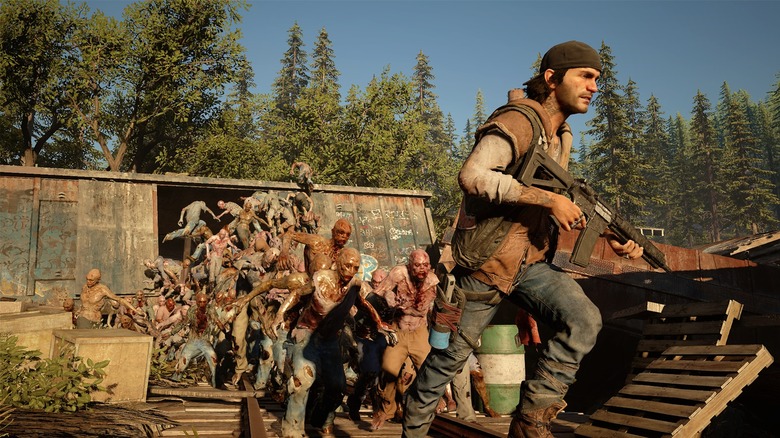 We're not quite done with 2018 yet, but next year's video game release calendar is already filling up. And in no place is that more evident than February 2019, which is home to release dates for Anthem, Crackdown 3, Metro Exodus, and Trials Rising.
Advertisement
Sony's PlayStation 4 exclusive Days Gone used to be a part of that list. But today, the company wisely announced a delay for that title, pushing it back two months into April 2019.
In a post on the official PlayStation blog, Sony spoke about the delay in more detail.
"We recently decided to move the release of Days Gone from the crowded February timeframe to April 26, 2019," Sony said. "While the studio is eager to see Days Gone in the hands of fans, Bend Studio will take the opportunity to further polish Days Gone."
Days Gone sits in a weird place when compared to the rest of Sony's upcoming games lineup. Sony is framing the title as a major AAA exclusive, but it could be argued that Days Gone isn't as anticipated a title as, say, The Last of Us Part 2. And the game hasn't always previewed well. VentureBeat got a look at the game in late May and called the demo "a little lackluster, without much emotion or engaging action."
Advertisement
Maybe Sony's Days Gone delay is an acknowledgement of the game's stature. It's hard to imagine that Sony would move The Last of Us Part 2 away from any other game. But the company might not have felt so confident putting Days Gone up against Anthem, a brand-new intellectual property from the BioWare team that made the original Mass Effect trilogy.
Sony's Bend Studio is best known for the Syphon Filter series, which enjoyed a long run during the original PlayStation and PlayStation 2 eras. In addition, the studio also worked on two Uncharted titles for the PlayStation Vita: Uncharted: Golden Abyss and Uncharted: Fight for Fortune. Days Gone is Bend's first home console game in over a decade.