Fortnite: Save The World's Free-To-Play Launch Delayed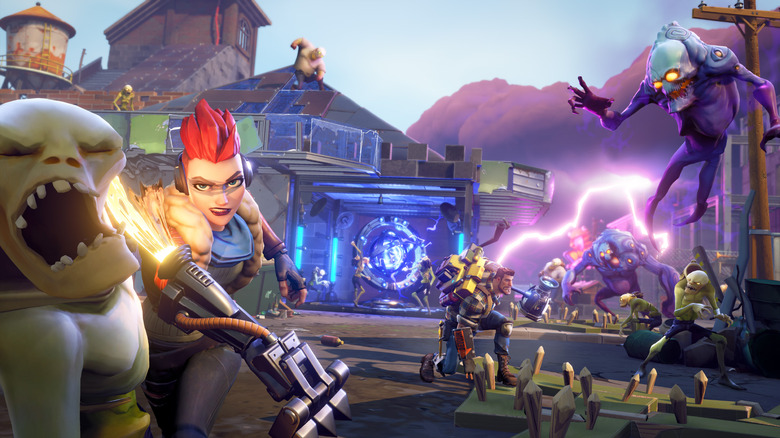 Those following the Fortnite YouTube channel got some bad news today, delivered in the most cheerful way possible. Fortnite: Save the World, the game's PvE zombie survival mode, won't become free-to-play until sometime in 2019.
Advertisement
Speaking on behalf of Epic Games, Save the World team member Billy Bramer smiled his way through an explanation for the delay, stating, "We want to make sure all of our players, both old and new, have a great experience. So we'll be doing some some technical and performance work in order to handle the scale of a full launch."
Fortnite: Save the World will also be getting some quality-of-life improvements. Bramer mentioned a revamp of the game's front-end UI, as well as additional customization options for hero characters.
The delay of a free-to-play Save the World mode is a bit bizarre for two reasons. The first is the fact that Epic is choosing to delay the mode's free launch, ostensibly because the game isn't quite up to snuff. Yet the not-free Founder's and Deluxe editions of the game, which grant access to Save the World, remain very much on sale. Delaying a mode because it's not good enough to be free? That's odd.
Advertisement
The second has more to do with Battle Royale — mainly, how it has become the primary focus for Epic despite Save the World being Fortnite's original vision. Battle Royale is praised widely for the way new content is added on a regular basis, and updates to weapons, modes, and the game world itself have flown in quickly. But Save the World, which has been behind a paywall since Fortnite's launch last year, doesn't seem to be as big a priority anymore. Which begs the question: why is Epic pursuing it at all?
Epic is feeling good about Battle Royale and it shows. The company isn't exuding the same amount of confidence about Save the World, and that should be worrying to those who prefer Fortnite's PvE experience to its more competitive PvP game type.
No word yet on when specifically in 2019 we should expect Fortnite: Save the World to launch as a free-to-play game.