Xbox Game Pass Adds Four New Games For Halloween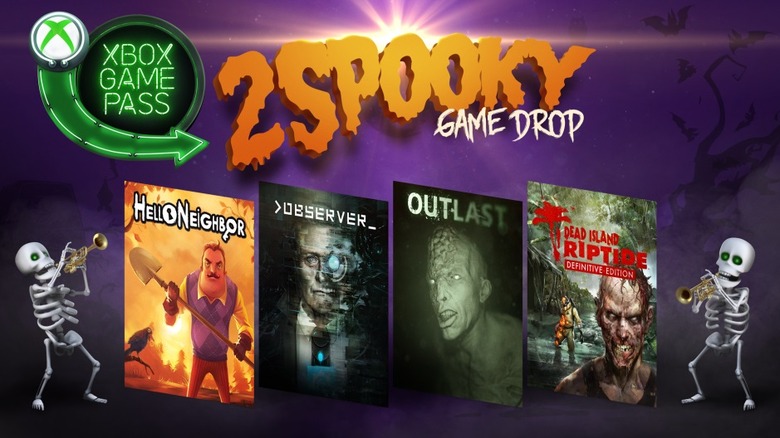 Xbox Game Pass subscribers have four new titles to play, just in time for Halloween. In what the company is calling a "2Spooky Game Drop," Microsoft has added Dead Island: Riptide Definitive Edition, Outlast, Hello Neighbor, and >observer_ to the Xbox Game Pass lineup.
Advertisement
Dead Island: Riptide Definitive Edition brings updated graphics to the original Dead Island: Riptide, which launched on Xbox 360, PlayStation 3, and Windows in 2013. The game is billed as an action RPG with survival elements, and was developed by Techland, a studio that recently knocked it out of the park with another zombie title: Dying Light.
Outlast is a survival horror game that takes place in an old, abandoned asylum. You play the role of a journalist exploring the location, armed with nothing but your video camera, whatever batteries you're able to find, and your sincere hope that none of the creatures roaming the asylum open that locker you're hiding in. Outlast was developed by Red Barrels, which released a sequel, Outlast 2, in the middle of last year.
Advertisement
Hello Neighbor is essentially Shia LeBeouf's Disturbia turned into a video game. You are the neighbor of a man you're certain is up to no good, and you take it upon yourself to try and investigate what exactly he's hiding. What makes the game unique, though, is that your neighbor is fitted with AI that learns from your past actions and tries to anticipate your next moves. Hello Neighbor was developed by Dynamic Pixels and first released as an early access title back in Dec. 2017.
And finally, >observer_. This game brings a bit of psychological horror to the mix, placing you into the shoes of a far-future detective who can break into the mind implants of others. As you can probably imagine, being able to hack brains comes in handy, particularly during interrogations. Not only that, you can also use Electromagnetic Vision and Bio Vision to take in your surroundings and scan for important items. >observer_ was developed by Bloober Team, which also worked on another psychological horror game available inside Game Pass: Layers of Fear.
All four Game Pass additions are available for download today.