Intellivision's Amico Console Is Coming In 2020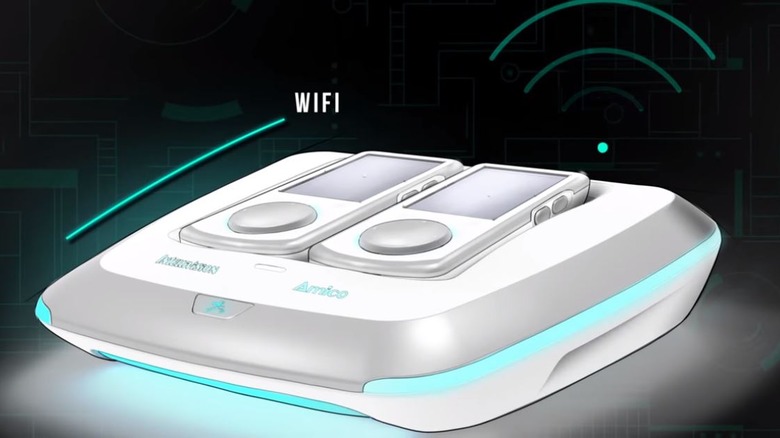 No, you haven't traveled back in time — Intellivision is, indeed, planning to launch a brand new video game console. In a YouTube video published today, Intellivision pulled the curtain back on its family-focused Amico system, showing off design concepts while also detailing some of the features you'll find on board.
Advertisement
Unfortunately, you'll have to wait a while to get your hands on one. The Amico isn't scheduled to release until Oct. 10, 2020.
For fans of retro gaming, there's certainly a lot to like in the Amico trailer. The console looks to stay true to Intellivision's roots, even going so far as to incorporate the original's dial pad. But the Amico also includes some modern day tech. The controllers themselves are wireless, have built-in touch screens, and can be charged via the console's Qi dock. And it appears smartphones will also be supported as input devices, so friends can jump in and play if you're a few gamepads short.
Intellivision plans to bet big on retro games, too. In the trailer, the company states that every Intellivision Amico game will be console exclusive. And a big part of that promise includes remakes and remasters of past classics. Some of the games shown in the trailer include Super Burger Time, R-Type, Lode Runner, and ToeJam & Earl. The target window for game prices is somewhere between $2.99 and $7.99.
Advertisement
As for the price of the Amico itself — that's a bit higher than you might be expecting. While other classic consoles have come in under the $100 mark, with Sony's PlayStation Classic being the most expensive, the Intellivision Amico is set to cost between $149 and $179.
Two years is a very long time, which is why you don't usually see console announcements so far in advance. The Intellivision Amico looks like it does some neat things. But in two years, we could all be eagerly awaiting the launch of next-generation Xboxes and PlayStations. Will anyone still be interested in a modernized Intellivision by then?
We'll have to wait until 2020 to find out.