Fortnite Will Soon Let You Redeploy Your Glider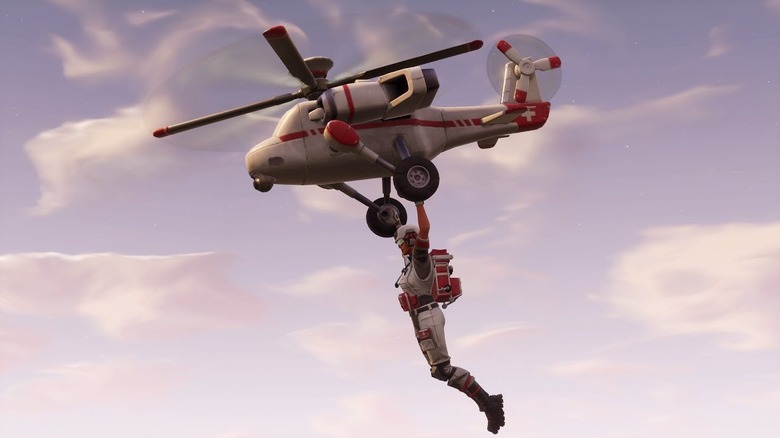 Players of Fortnite: Battle Royale will soon have a brand new way to move around the map during any match type — the same one they used to reach the ground at the beginning. Epic announced today that it is testing glider redeploy, giving those in high places a quick means of travel and a safe way to come back down to earth.
Advertisement
Previously, glider redeploy was only enabled in the Soaring 50's game mode, a limited-time event. As it stands now, this test is functional in all Battle Royale modes, though Epic states that it'll only last a week.
We happen to think the feature will stick.
Why? Because the ability to redeploy your glider solves a few problems for Fortnite. Unless you're lucky enough to happen upon a vehicle or a launch pad that does, in fact, let you use your glider again, traversal in the game is slow. A lot of players perish in the storm simply because they can't make up ground in time. Adding a quick way to cover large distances will help more players survive until the end, and make more games competitive.
Advertisement
In addition, coming down from tall mountains and buildings has never been a great experience in Fortnite. In the past, you had to build yourself down, or hope that the leap you were making wasn't too deadly. Having a glider handy just makes sense. It felt right in Soaring 50's, so why not do it everywhere?
It's also worth noting: the Blackout mode inside Call of Duty: Black Ops 4 allows players to redeploy their wingsuit from any high place — no special mode required. It's possible Epic was slightly nudged in this direction by another popular game in the battle royale space.
Glider redeploy comes as part of Fortnite's 6.20 update, which is expected to arrive sometime soon.