Alleged PS5 Slim First Look Leaked Twice In One Day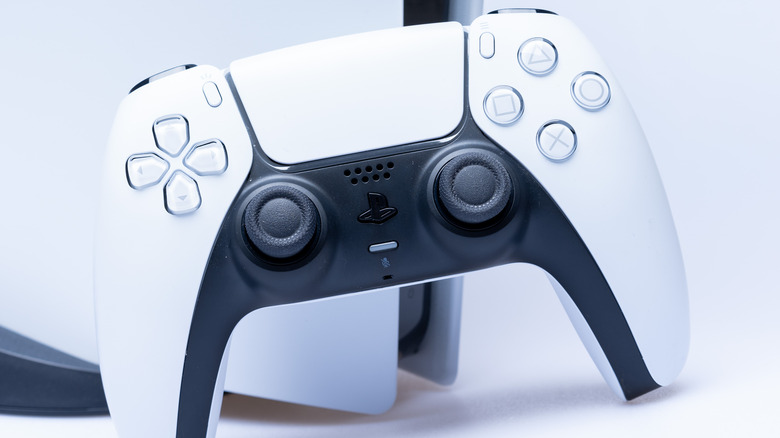 Avid Photographer. Travel The World To Capture Moments And Beautiful Photos. Sony Alpha User/Getty Images
Looks like the cat is well and truly out of the bag. After months of rumors and accidental listings, it appears as though Sony fans have finally gotten their first look at the so-called PlayStation 5 Slim. In fact, a few exciting sneak peeks occurred within hours of each other on August 11.
First, a Twitter user who goes by the handle of @Gust_FAN tweeted a low-res image of what appeared to be a smaller version of the PS5 we all know and love. Aside from a shortened frame, the console in the image also features a pair of divots in its white faceplates. It's unclear what purpose this particular aesthetic chance would serve, but fans quickly flocked to the post for more information. According an automated translation on Twitter, the image came from a gamer in China, but @Gust_FAN noted that they couldn't entirely verify whether the image was legit. However, their source did say that this model features a detachable disc drive, which matches up to other recent reports concerning Sony's next PlayStation model. The Twitter user also noted that the model did not appear to be any slimmer than the current PS5, but was instead "about 5 cm lower" in height.
噂: ディスクドライブ着脱式新型PS5 のパッケージを入手したという中国からのリーク(信憑性は不明)

‐高さは5cmほど低くなっているが厚さは変わらずスリムではなくリニューアルモデル
‐カバーには黒いスリットが追加。着せ替え廃止?
‐前面には2つのType-Cポート pic.twitter.com/4hOiuz0BLf

— のわの:げーみんぐ (@Gust_FAN) August 11, 2023
The image might have been written off by most fans as a clever fake, if not for what surfaced next: Later in the day on August 11, another Twitter user shared what appeared to be actual footage of the same model seen in @Gust_FAN's photo.
Video leaks of a slightly different PS5 model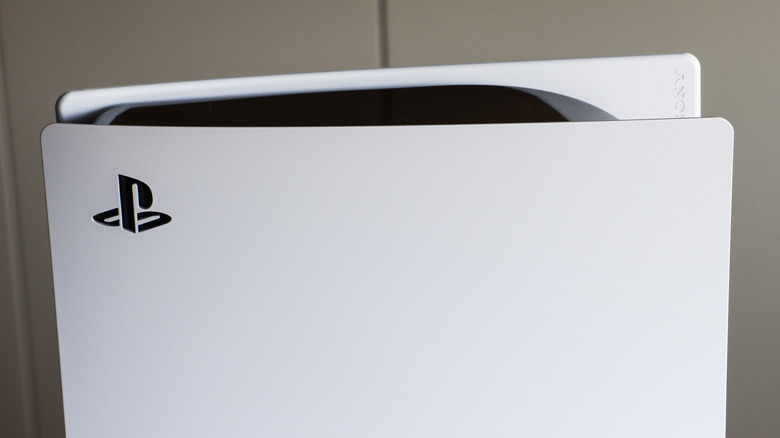 Pinciniphoto/Getty Images
Twitter user @BwE_Dev uploaded a clip of what looks very much like the previously leaked PS5 variant. I'm the brief clip, the model seems to still be partially wrapped, with a bit of plastic still clinging to one side of the unit. It also bears the same split in the faceplate that was seen in Gust_FAN's image, and does indeed appear to be shorter. Perhaps most impressive of all, this PS5 doesn't appear to be all that heavy, at least when compared to the current retail versions of the console. The person in the video can be seen easily holding the console in one hand, as well as turning it from side to side to show off the slight redesign. The regular PS5 weighs a solid 9.5 pounds, with the Digital Edition only cutting about two pounds from that heft, so it seems the console in this clip may weigh slightly less.
CFI-2016 PS5 Case pic.twitter.com/udFyQbVpz8

— BwE (@BwE_Dev) August 11, 2023
@BwE_Dev does not explain where they got the video of this console, but they has a few theories about how Sony managed to get the size down a bit: "my guess is that it comes without the drive and you buy it and attach it later ... Would it then be slim enough to call it a slim? Maybe. It's definitely thinner when you compare the bottom."
Because of the lack of other info, some commenters have cast doubt on the legitimacy of the clip. However, Insider Gaming's Tom Henderson points out that it seems to resemble the design he's been hearing about for a while. Henderson also weighs in on the fact that the console in the clip isn't any thinner, writing that this new model is instead "a means of streamlining the manufacturing process and reducing shipping costs."
Multiple PS5 reports -- or all the same console?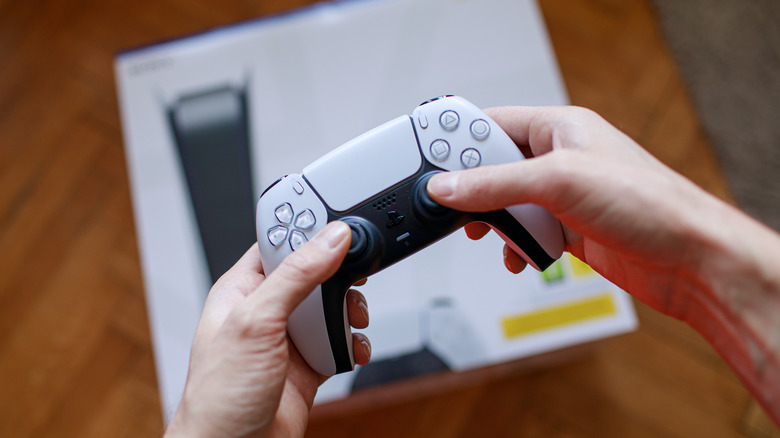 Girts Ragelis/Shutterstock
Of course, this is just the latest in a series of leaks pointing to a new PlayStation 5 model being just around the corner. Just last month, anonymous sources close to Key To Gaming claimed that Sony was gearing up to release a "Pro" model PlayStation 5 in 2024, which would officially mark the end of the base model PS5's reign in the console market. 
It remains to be seen if this supposed Pro model and the newly glimpsed Slim model are one and the same, or if Sony is hoping to put two new models on the market around the same time. It certainly seems like there's a good bit of overlap between the two models and the various reports. What is for sure is that most gamers are no longer buying into the story that Sony doesn't have anything new up its sleeve. At this point, it seems like only a matter of time before the next era of PlayStation consoles is officially announced.