Bulletstorm, Yakuza Headline PS Plus Games For November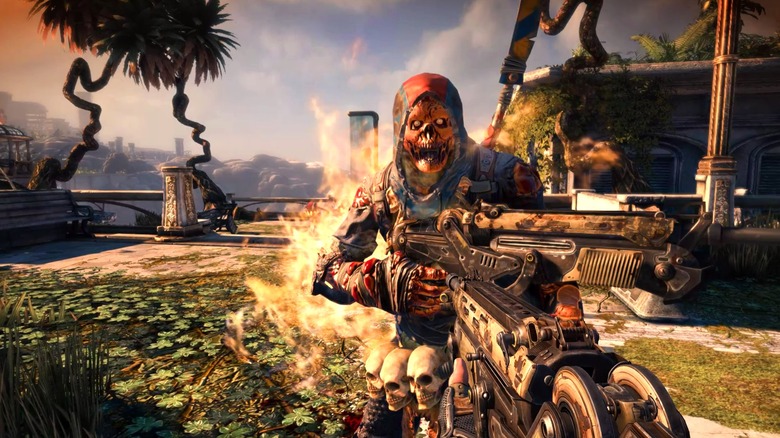 Sony has announced which games are coming to PlayStation Plus in November, and it's safe to say the lineup has a little something for everyone. PlayStation Plus subscribers can look forward to the following games next month:
Advertisement
Bulletstorm: Full Clip Edition (PS4)
Yakuza Kiwami (PS4)
Burly Men at Sea (PS4, PS Vita)
Roundabout (PS4, PS Vita)
Jackbox Party Pack 2 (PS3)
Arkedo Series (PS3)
It's tough to argue that both Bulletstorm: Full Clip Edition and Yakuza Kiwami are the standouts in this set. The former is a remaster of last generation's Bullestorm, which reviewed fairly well across the board. IGN said the game "shines as a single-player shooter," though it falls a bit short on the multiplayer front. But hey — that means it might be a good game to pair with Call of Duty: Black Ops 4, which is all about the multiplayer but has no campaign to speak of.
Yakuza Kiwami is another remake — this time of the original Yakuza, which first appeared on the PlayStation 2 all the way back in 2006. Polygon took a look at the newest version of the game, which released back in 2017, and found that it was "a great update" but didn't do enough to sell the long-term value of the series.
Advertisement
Those still rocking and rolling on their PlayStation 3 consoles will find some group minigame fun in Jackbox Party Pack 2. And Arkedo Series on PS3 is a nice pickup for fans of retro-style puzzle and platform games.
But PlayStation 4 owners are ultimately making the most out of this month's offerings. Both the slots otherwise saved for PlayStation Vita games in PlayStation Plus are occupied by titles that are cross-buy compatible between Vita and PlayStation 4. Which means in addition to Bulletstorm: Full Clip Edition and Yakuza Kiwami, PS4 owners are also getting Burly Men at Sea and Roundabout.
The newest PlayStation Plus games will likely become available for download next Tuesday. Until then, PS Plus subscribers can still pick up last month's offerings, which include Friday the 13th (perfect for Halloween) and Laser League.