Here's When You Can Play In Fallout 76's Final B.E.T.A.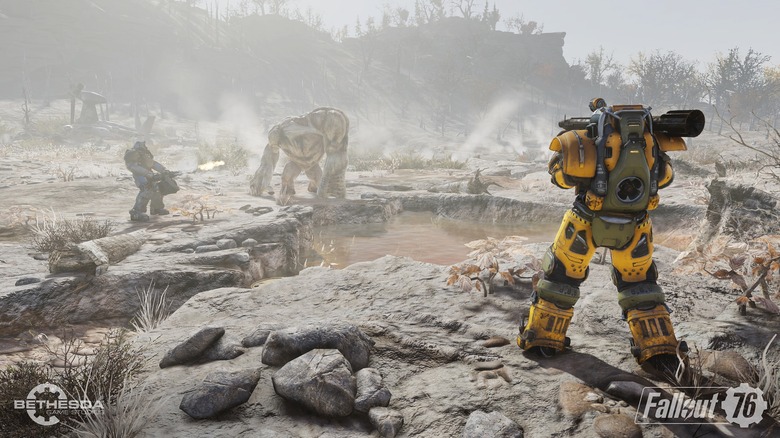 The launch of Fallout 76 is just around the bend, but if you're looking to take an early trip to West Virginia, there's still time. There are two more B.E.T.A. sessions scheduled over the next few days, according to Bethesda's Fallout account on Twitter: one tomorrow, and one on Thursday.
And yes, the "B.E.T.A." is a "beta" for Fallout 76. But in true Fallout form, Bethesda decided to get cute with acronyms. In this case, B.E.T.A. stands for Break-It Early Test Application.
Tomorrow's B.E.T.A. window is fairly small. It runs from 1 p.m. ET to 3 p.m. ET, which is a curious choice given that many will be at work at that time, and it's also Election Day. Good luck carving time out for that one! The B.E.T.A. scheduled for Thursday, Nov. 8 has a far more forgiving window if you'd like to jump in. That one's active from 2 p.m. ET to 8 p.m. ET, giving you plenty of time to clear your schedule and see what the latest Fallout has to offer.
The question is, will you want to?
Fallout 76 reactions are a mixed bag among those who've played in the initial B.E.T.A. sessions. Hayden Dingman over at PC World noted that the Fallout 76 locale of West Virginia is "a beautiful world, and a dense one," and "Every few steps there's another ruin to explore, another quest to pick up, another holotape to listen to."
Yamilia Avendaño of Twinfinite, however, didn't feel quite as drawn into the world, tweeting, "Fallout 76 is really good at making me want to play any other video game." She went on to criticize the B.E.T.A. version of the game for including "everything that's mildly annoying with Fallout 4" and recommended everyone play The Sims 4: Get Famous instead.
So Fallout 76 isn't for everyone — at least, not in its current state. We'll see what kind of tweaks Bethesda makes before Fallout 76 launches on Nov. 14.