Path Of Exile Is Coming To PlayStation 4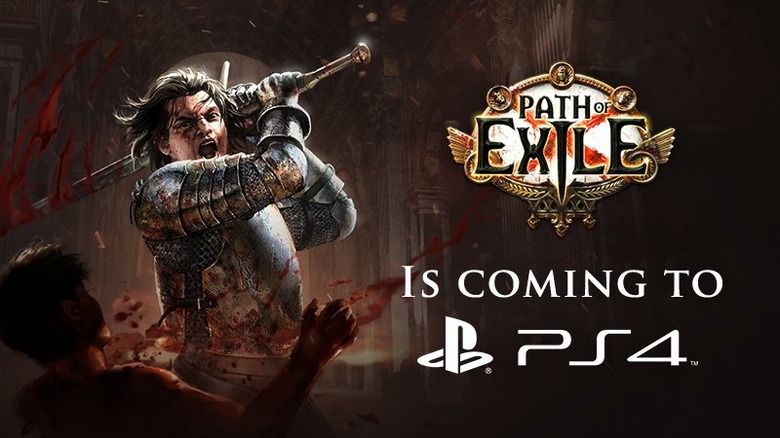 Path of Exile, the free-to-play action RPG that's drawn comparisons to the Diablo series, is finally making its way to PlayStation 4 in December. The news was announced on the game's Twitter account earlier this afternoon, along with word that the release will include the game's 3.5.0 expansion set to arrive on Dec. 7.
Previously, Path of Exile was limited to PC and Xbox One. The game released on Oct. 23, 2013 and Xbox One on Aug. 24, 2017.
One item of note, based on a reply that the developer, Grinding Gear Games, sent to a user on Twitter following the announcement. It appears that cross-platform play won't be a possibility for the moment, as players on different platforms apparently play on their own servers. So Xbox One and PC veterans won't be teaming up with their new PlayStation brethren just yet.
But Path of Exile's arrival on the PlayStation may just help the game find a new audience, and get some of those who've lapsed on other platforms back into the action. And Path of Exile re-entering the news discussion is particularly interesting given the controversy surrounding Blizzard and its Diablo BlizzCon reveal. There, Blizzard pulled back the curtain on a mobile spin-off of the popular franchise called Diablo Immortal.
The backlash from fans anxiously awaiting Diablo 4 was swift.
Perhaps Path of Exile can take advantage and attract some of those Diablo devotees who were disappointed with the way BlizzCon went. Path of Exile does share quite a bit in common with the Diablo games. And the game does have its fair share of fans, with PC Gamer calling it "one of the best ARPGs out there, and absolutely the best value." And IGN had good things to say, as well, praising the game's "immense amount of free content and extremely open-ended character progression." IGN did, however, find the combat a bit lacking.
There's no word yet on whether or not Path of Exiles will make its way to the Nintendo Switch.