Smite Could Be On Its Way To The Nintendo Switch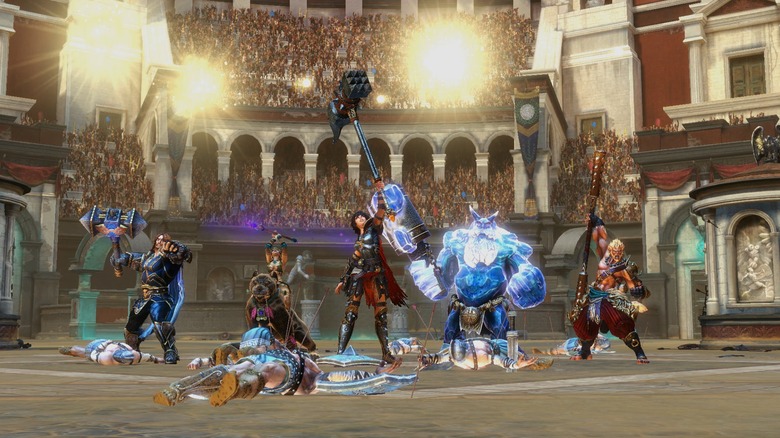 The Nintendo Switch could be getting some MOBA love in the very near future. According to Game Informer, data miners for the game Smite have identified a special in-game item that may point to a Nintendo Switch version of the game being released sometime soon.
The item is a "Switch Founder's Pack" and if that sounds familiar, it's because the game Paladins also released a Founder's Pack on Switch. In that instance, the Founder's Pack was a paid early-access version of the game that sold before Paladins eventually went free-to-play on the system. Paladins is developed by Hi-Rez Studios. And Smite, as it turns out, is developed by that exact same studio.
It appears that Smite may take a similar approach to its Switch launch as Paladins did: a paid version of the game that includes some extra goodies for early adopters, and then a free version later down the line.
But that's not all the interesting Smite-related news we have. Game Informer also reports that Hi-Rez has been interested in implementing cross-platform play in Smite, and that the company hopes to wiggle its way into enabling it on PlayStation 4 just as Fortnite did. As Fortnite has shown, a large player base is everything when it comes to supporting a free-to-play title. Hi-Rez undoubtedly wants to get Smite on as many platforms as possible, and get as many of those platforms talking to each other in order to grow that base.
It'll be interesting to see how the Smite experience translates to the Switch. The game seems right at home on PC, but it also made a fairly successful transition to console. Play on Switch while in docked mode would likely be similar to the way the game plays on Xbox One and PS4. How the game handles itself while portable, though, is anyone's guess.
Smite first released on PC on March 25, 2014. The game later came to Xbox One on Aug. 19, 2015 and PlayStation 4 on May 31, 2016. There's not been an official announcement for a Nintendo Switch version as of yet.