Valve Is Discontinuing The Steam Link Box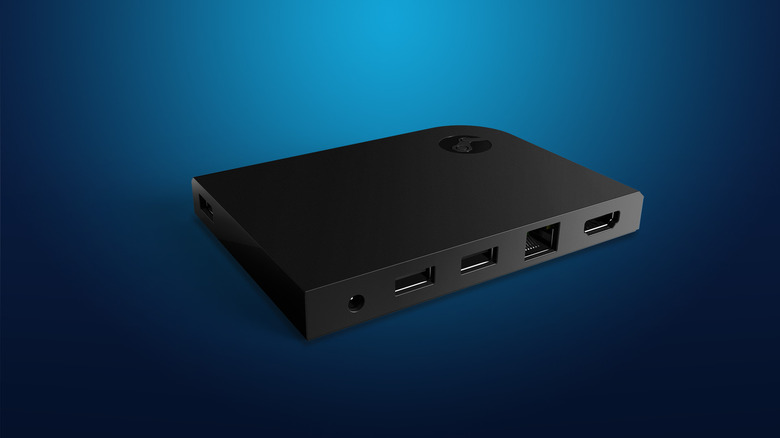 It appears Valve is officially walking away from one of its more popular pieces of hardware. According to Eurogamer, the company is discontinuing its Steam Link box, which enabled players to stream games from Steam on PC to their living room TV. The device is reportedly sold out in Europe already, with US stock dwindling down, as well. After that, Valve is out of the streaming box business.
Advertisement
Valve will continue support for the Steam Link software, which runs on mobile devices and smart TVs.
The Steam Link box itself was an interesting attempt by Valve to extend its Steam platform to non-PC devices. The company had tried — rather unsuccessfully — to promote a line of Steam-powered Linux PCs called Steam Boxes. These PCs were made by a variety of manufacturers and emulated the home console experience by booting directly into Steam, giving full access to the platform and titles purchased through it. The lack of game support on Linux, which had nowhere near as many titles as Windows, inevitably led to the downfall of the Steam Box. But the Steam Link at least seemed like a promising way to bridge the gap between a home gaming PC and a console-esque couch experience.
Advertisement
Valve seems to be relying on third-party hardware makers to provide streaming boxes and sticks that can support Steam Link, which lets the company jump out of making the hardware itself. At press time, the app can currently be downloaded on Android devices and hardware running Fire OS. Apple Insider reported back in June that Apple refused to publish the Steam Link app in the iOS App Store because — get this — it mirrors a PC screen and someone might make a purchase on their PC using the app without Apple getting a cut.
It doesn't appear that there's been any movement with regard to the Steam Link iOS app, as a search in the App Store for the app yielded no results.