Sony's $200 PlayStation 4 Slim Is Selling Out Fast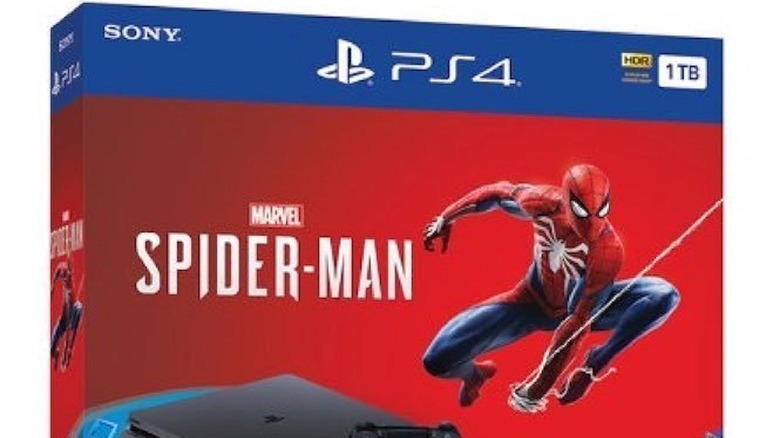 We may receive a commission on purchases made from links.
Want a super-cheap PlayStation 4 Slim with an included copy of Insomnaic's Spider-Man? You might want to have your wallet ready — the systems are selling out fast.
According to the PlayStation website, there are five retail stores taking part in Sony's Black Friday deal, which bundles a 1 TB PlayStation 4 Slim with this year's critically acclaimed Spider-Man. You can nab it — either in-store or online — at Amazon, Best Buy, Walmart, or GameStop.
Now here's the problem. The bundles appear to be out of stock in four of those locations. We've checked Amazon periodically throughout the day and the system's been sold out there the entire time. The story's been the same for GameStop, where the Spider-Man bundle has been marked "Not Available" since shortly after the deal went online.
Best Buy is still showing as "in stock" on the PlayStation website, though it turns out that the system can't be shipped. There may or may not be bundles available at your local store, though your mileage may vary. And Target and Walmart are both in the same boat. Bundles are currently out of stock on both of those websites if you want them shipped, but you may be able to track a system down at a store near you.
Let's say you can't find a system in a nearby big box store. Are you out of luck? Not necessarily. Your best bet is to visit the Walmart website and input your email to be notified when the PS4 bundle is back in stock. Walmart has gone in and out of stock a couple of times today, so if you're quick enough, there's a chance you could get an order in while there are bundles available.
You could also sit tight and wait. These deals are apparently up a little bit early, and there's a possibility that all the stores mentioned above could track down more stock in the days ahead.