Get A Nintendo Switch And $35 Of eShop Credit For $300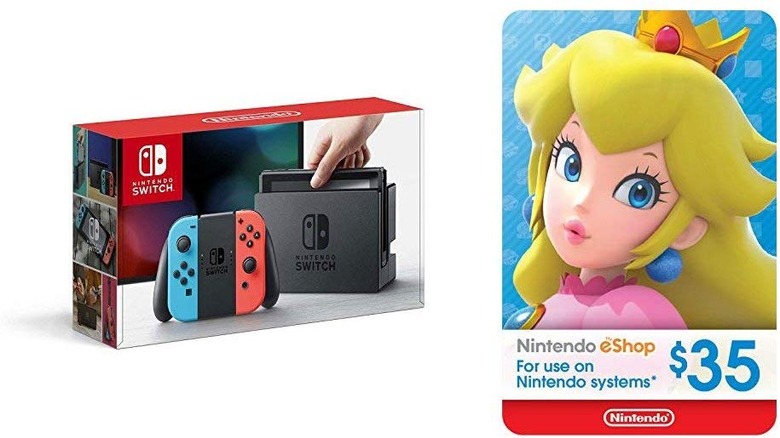 Nintendo Switch deals haven't been as plentiful as those for the Xbox One and PlayStation 4, but look out — Cyber Monday has blessed us with a pretty good bargain. It comes courtesy of Amazon, which currently has a Lightning Deal for the Nintendo Switch console with $35 of eShop credit included for a price of $299.99. Yes, that's the cost of the system by itself.
Now here's some good news should you decide to grab this deal. The eShop code that comes as part of the package is actually a digital download. That means as soon as you pay for the bundle, you should be able to access the $35 in eShop credit, which you can use immediately on the Nintendo eShop. We suggest you do that. 
Why, you ask? Nintendo is currently running holiday "Cyber Deals" on a bunch of games. So that $35 in credit will go a longer way today and tomorrow than it will on Wednesday when the sale wraps up. Just to give you some idea of what we mean, you can pick up Doom on the Switch for $30, Skyrim for $30, Final Fantasy XV Pocket Edition HD for $19.49, Shovel Knight: Treasure Trove for $20, and a whole lot more. If you pick up some of the smaller games, like The Messenger for $14 or Celeste for $16, you could actually use that $35 in credit to buy more than one game.
The included credit is a nice way to get started on building your Nintendo Switch game collection by not paying any more than you would've prior to Black Friday and Cyber Monday. And bear in mind that Super Smash Bros. Ultimate is right around the corner, too. So if you had already planned on picking up a Switch for that game, you might as well plunk down some cash today. There's no sense in paying more for less a few weeks from now.
We'll let you know if we happen upon any other meaningful sales today.